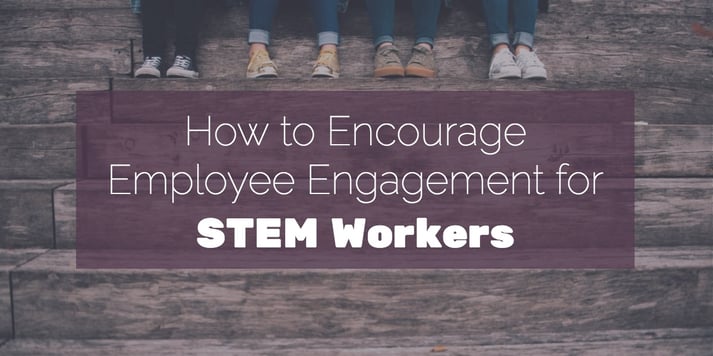 In the U.S. workforce, jobs in STEM are the fast-growing and show no signs of stopping anytime soon. Along with the opportunity to advance technology and help better our world, careers in STEM offer lower unemployment and higher pay than other industries. It's no wonder it's becoming a growing career choice for many graduating students.
But once you've got STEM workers in their jobs, how do you keep them engaged? STEM-related jobs can be competitive. Losing great talent when you've worked so hard to find it can cost you.
Employee Engagement in STEM Roles
Many STEM-related work environments can tend toward research and even seclusion. While it's easy to believe a stereotype like all engineers are introverts or scientists holed up in laboratories, we as people are social creatures and need collaboration and camaraderie to help our sense of belonging and even our drive and productivity. The following employee engagement ideas for STEM workers all encourage communication, engagement, and interaction outside of a typical STEM role. Follow these tips and help your STEM workers produce better work and feel a part of something bigger than just themselves.
Support outside skills
Keep your STEM workforce engaged and producing meaningful work by helping them develop necessary business skills outside of what they may have learned earning their degree. In today's workforce, having the engineering knowledge or computer skills just isn't enough. They need to be able to communicate with their teammates, as managers, and to people outside of their specific skillset or field.
Instead of simply giving a presentation on a project, teach your STEM workers to tell the story. Help them help their audience understand the what and the why behind what they are doing. Try mock presentations and TED Talk style gatherings for employees to share about their latest projects or other interesting things going on in the field.
Encourage cross-company collaboration
You never know what ideas you'll come up with when people from different backgrounds and skillsets start working together. Sometimes a fresh perspective can make a big difference in how to solve a problem.
Novartis Animal Health (now Elanco) exercised this through an event called "da Vinci day." Using an online "Idea Wall," employees presented ideas for company products, processes, and culture. With every idea and benefits outline employees submitted, other employees comment on and promote ideas through a voting system.
"One of the most encouraging things about da Vinci day was that it attracted an international, cross-functional group of participants, many from functions not typically associated with innovation," Mickey McDermott, Director of Global Innovation, said of the event.
Get employees involved with something purposeful
Encourage your employees to get involved with community-based STEM initiatives. There are plenty of ways to get involved with STEM initiatives without overspending your budget. In fact, your time can be the most valuable thing to these young minds. Have employees volunteer as mentors to students in STEM programs or start your own mentorship program through your organization. Sponsor robotics competitions, science fairs, career days, or other STEM development activities.
Not only will activities like these help bring more sense of purpose to what may otherwise feel like routine work, you inspire your employees—present and future. By promoting STEM for students, you also help promote the values of your company to both your employees and to the outside world. We know that today's talent is considering more than salary when looking at job opportunities. They are evaluating your company's global and community impact. If you're a company making mentorship and philanthropy a priority, you empower current employees and attract future candidates, not to mention show your clients and prospects how much you care for your work and its purpose in the community around you.
Making an investment to keep your STEM employees engaged will prove more worthwhile than spending countless dollars on employee turnover, hiring, and training. Engaged employees will produce more meaningful work and will feel more appreciative about your company (which can make for great referrals too).
Want to learn more about finding and hiring the best STEM talent for your team? Get the free ebook, Guide to Hiring Top Engineering Talent.