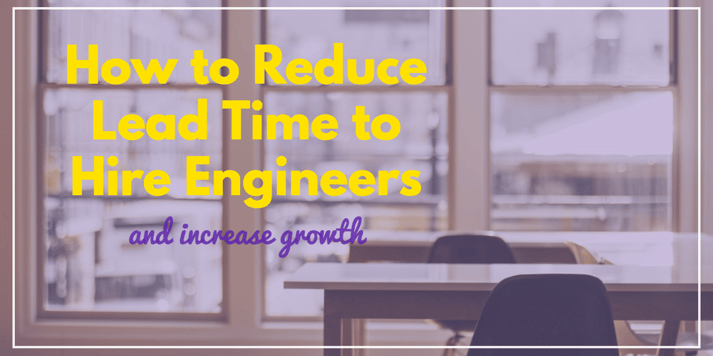 This is Part 2 of our series on Lead Time to Hire Engineers. Read Part 1 in the series here.
On average, it takes 58 days to fill an engineering position in the U.S. And studies show that number is increasing as today's hiring process continues to take more and more time.
Every day that passes when you have an empty position affects your bottom line. It's time to reduce lead times for hiring engineers and keep your business operating at full speed.
We've already discussed a few ways to optimize your hiring process with the help of a zero-to-fill method from Scott Wintrip. The basic fundamentals include:
Enroll an early adopter

Build your talent inventory

Gain candidate gravity

Maintain talent inventory
This is a great place to start, but let's dive in a little deeper here and start finding answers to the tough questions that keep companies from hiring the best talent quickly.
What are some of the biggest challenges in hiring an engineer?
A big challenge in hiring engineers comes when managers don't actually know what they're looking for. They know they're looking for an engineer—but which kind? What skill level will be required for the project? Any specific expertise?
From the beginning, it's important to follow a process that clarifies who you need, what you need, and the full process of the project. Using a statement of work (SOW), you can flush out the work, tools, testing, evaluation, and see what you're looking for and manage the person on the project. Do this at the beginning, and you'll not only be able to identify the right talent you need, but also reduce the risk of turnover on the other end.
Instead of making a vague or partial job description, spell it all out. Craft the job description carefully and keep in mind that there may be more than one term for a skill, title, or quality you're looking for in the open position. Don't let a database search for keywords that could have you miss out on valuable talent.
Not only will you have a better opportunity to hire the right engineer when you know what you're looking for, but also a better time getting that talent to accept when they feel well informed about the job. Engineers like to know what work they will be doing and what the expected outcome will be.
Another challenge in hiring engineers is the hiring process itself. When hiring an engineer, don't drag your feet or have unnecessary steps in your hiring process. The best talent will likely be recruited by several, if not many, different companies and jobs. If your hiring process tarries too long, you could be settling for mediocre or leftover talent while your best talent accepted a job elsewhere. Make your interviews thorough but efficient to get the most out of the time with a candidate. Don't let the fear of making the wrong choice keep you from making a choice at all.
Communicate with the candidate, referrals, and colleagues. Don't rely on a resume alone. Resumes tell us where people have been—we want to see where they're going, too. Talk with the candidate about their abilities and expectations. Speak with referrals and colleagues regarding the candidate's work ethic. Talk with your team about the type of person that's the right fit for the position.
When you know what you're looking for, it's easier to find.
Look for the right candidates to build your talent inventory
A vital part of optimizing your hiring process is to build and maintain a talent inventory with about four to five ready-to-hire candidates. That way, when the time comes for you to hire an engineer, you already have a repository of highly-qualified candidates to choose from.
Look back into your candidate database.
Who have you spoken with in the past? Why didn't they receive an offer or did they not accept an offer you gave? With the many candidates you've likely received over time, chances are there is still good talent sitting in your database. Review the candidates that would be worthy additions to your talent inventory.
Utilize Referrals
We've learned that one of the most underused recruiting methods is referrals and an increased referral rate leads to decreased lead times for hiring. A referral program for your company can be a great investment that saves you time and money.
Maintain your talent inventory
Once you've created your talent inventory, put in the work to maintain it. Doing more work on the front end to keep up with your repository allows you to fill a position in little time rather than frantically putting in work as a reaction to an open position.
Find the right resources to help you optimize your hiring process
Do you have a go-to place for finding top engineering talent? Utilize resources like the Talent 101 CIRCUIT to quickly identify highly-qualified candidates in diverse roles, from test technicians to engineers and designers, who are available to fill vacancies at your company.
Think of all the time you spend checking resumes, onboarding new hires, going through stacks of paperwork, and everything else that goes into the hiring process. What if you had that time to spend on more important projects and tasks instead? By partnering with a workforce solutions provider, all the work is done for you. You can be confident the best talent will be found for you by the top talent recruiters and workforce solutions.
Want more insights into hiring top engineering talent? Get your free guide today!