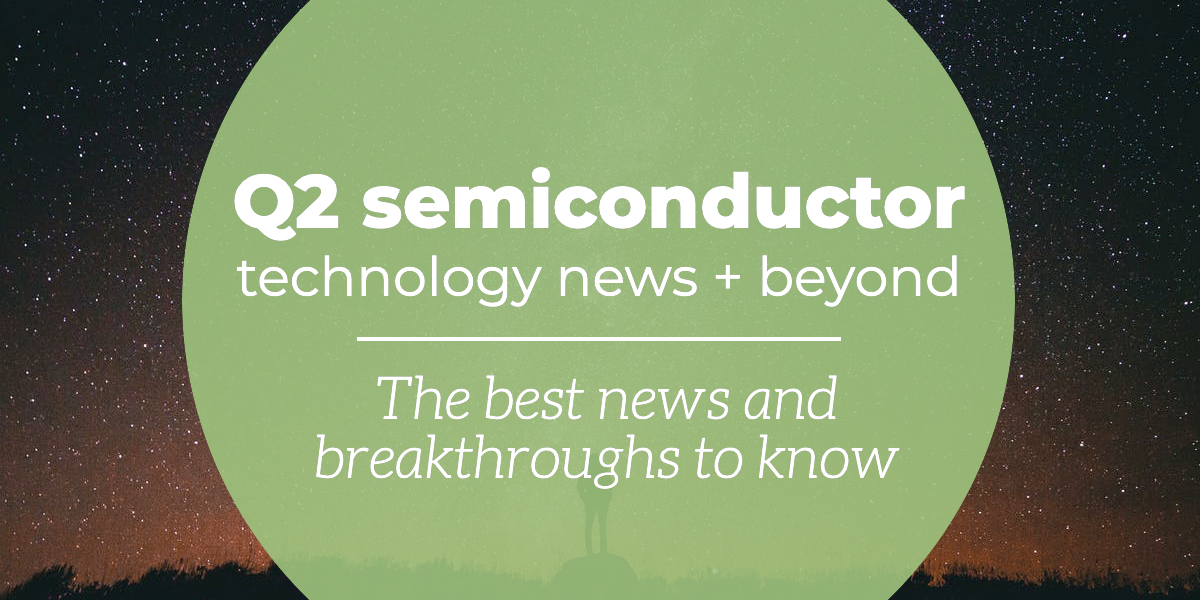 As we finish out the second quarter of 2019, it's abundantly clear this is another transformational year for the semiconductor industry.
Although global semiconductor industry sales are down, the future should hold significant growth, according to predictions. The Developing Innovation and Growing Internet of Things (DIGIT) aims to further the development of connected technology in the U.S. and foster significant advances — like Facebook's AI Habitat and a chip startup's new laser solution — to make AI innovation faster and smarter. Moreover, Lattice's new field programmable gate array (FPGA) may change the game in building better security and compliance.
Every quarter, we bring you the latest news impacting semiconductor companies and provide busy hiring managers with a quick rundown of the industry happenings you can't miss.
Here's what you need to know about what's happened in the second quarter of 2019:
Global semiconductor sales down 15.5 percent in the first quarter of 2019
The Semiconductor Industry Association (SIA) announced the worldwide sale of semiconductors totaled $32.1 billion in April 2019, which is a 14.6 percent decrease from last year and a 0.4 percent drop from March 2019.
This is a departure from the industry's record-high numbers near the end of 2018. Since the start of 2019, the global semiconductor market has continued to slow, and recent sales remained below expectations.
"Sales were down compared to last year across all major regional markets and semiconductor product categories. Global sales are projected to decrease by 12 percent this year, then rebound somewhat with moderate growth expected next year," said John Neuffer, SIA president and CEO, in a statement published by the association.
The Worldwide Semiconductor Market (WSTS) predicts the semiconductor marker to hit only $412 billion in the U.S. across all major categories, with significant decreases in Memory, Analog and Logic products.
However, the market won't be down long, and the WSTS also expects the market to recover in 2020 with a forecasted growth of 5.4 percent.
Stay up-to-date with the semiconductor market here.
Senate tech leaders reintroduce the DIGIT act
U.S. Senators Deb Fischer (R-Neb.), Brian Schatz (D-Hawaii), Cory Gardner (R-Colo.), and Cory Booker (D-N.J.) reintroduced the bipartisan Developing and Growing the Internet of Things (DIGIT) act.
The DIGIT bill calls for a group of federal bodies and private sector stakeholders to provide Congress with recommendations on how to best support the growth of the Internet of Things (IoT). With IoT technologies transforming the way people live, reintroducing the act is a push to further America's position in cutting-edge technologies.
"The DIGIT Act's working group and steering committee will address some of the most pressing challenges facing the Internet of Things, such as facilitating its adoption within federal agencies and identifying spectrum needs, both of which market forces alone cannot readily overcome," said Director of the Information Technology and Innovation Foundation (ITIF) Center for Data Innovation, Daniel Castro, in a statement issued by the center. "With the Secretary of Commerce at the helm, the working group promises to help the United States capitalize on the enormous benefits the Internet of Things will offer."
Learn more about the bill here.
Chip startup uses lasers to unleash the full potential of AI
Luminous Computing recently raised $9 million in seed funding from Bill Gates and Uber CEO Dara Khosrowshahi. Their mission? To accelerate artificial intelligence (AI) with a new chip using just light to process data.
Typically, semiconductors use electrons to support the demanding calculations that power artificial intelligence (AI) models. This process isn't without its faults, though. Hardware limitations cause delays for AI-driven machines — like autonomous cars and drones — that require power and fast data-processing to operate efficiently and responsively.
To solve this problem, Luminous Computing uses light as the solution instead. By using lasers to project light through tiny structures on the chip, it can move multiple pieces of data simultaneously. This optical solution can transport massive amounts of data faster, and with less power than those that rely on electrons.
Read more about this approach here.
Facebook debuts AI Habitat to train bots in physical spaces
There's a new way for robots to understand the physical world. In June, Facebook debuted AI Habitat, a new open platform for embodied AI research to train bots in simulated living and working spaces.
This approach could help AI-assisted robots respond to a user's request like "grab my keys from the desk" or assist a visually-impaired person with daily tasks. Rather than relying on static data sets, AI Habitat uses re-creations of indoor spaces developed by Facebook Reality Lab's (FRL) Replica. Together, AI Habitat and Replica could help develop next-gen Augmented Reality (AR) experiences that merge both physical and digital worlds.
Currently, Facebook is open-sourcing the AI Habitat and Replica data set so anyone can build upon it and contribute new approaches.
Learn more about Facebook's embodied AI research here.
Lattice released an improved FPGA with better security features
Lattice Semiconductor released a new control field programmable gate array (FPGA), clad with improved security features and enhanced AI performance. The new Lattice device, called MachXO3D, also has an updated SensAI stack that boosts performance by a factor of ten.
Additionally, Lattice created the MachXO3D as a hardware root of trust (RoT), so the device can operate as designed in any operating system. With firmware security attacks on the rise, RoT devices are more critical to hardware security than ever — especially because these devices start the link in a chain of trust that protects your entire system.
The device is also the first small control-oriented FPGA that's compliant with NIST's Platform Firmware Resiliency, which allows engineers to continue building systems that meet these standards.
For more about this new tech, read it here.
That's all for this quarter's chip and tech rundown! To stay updated on the latest semiconductor news, industry trends, and emerging issues, subscribe to our blog.