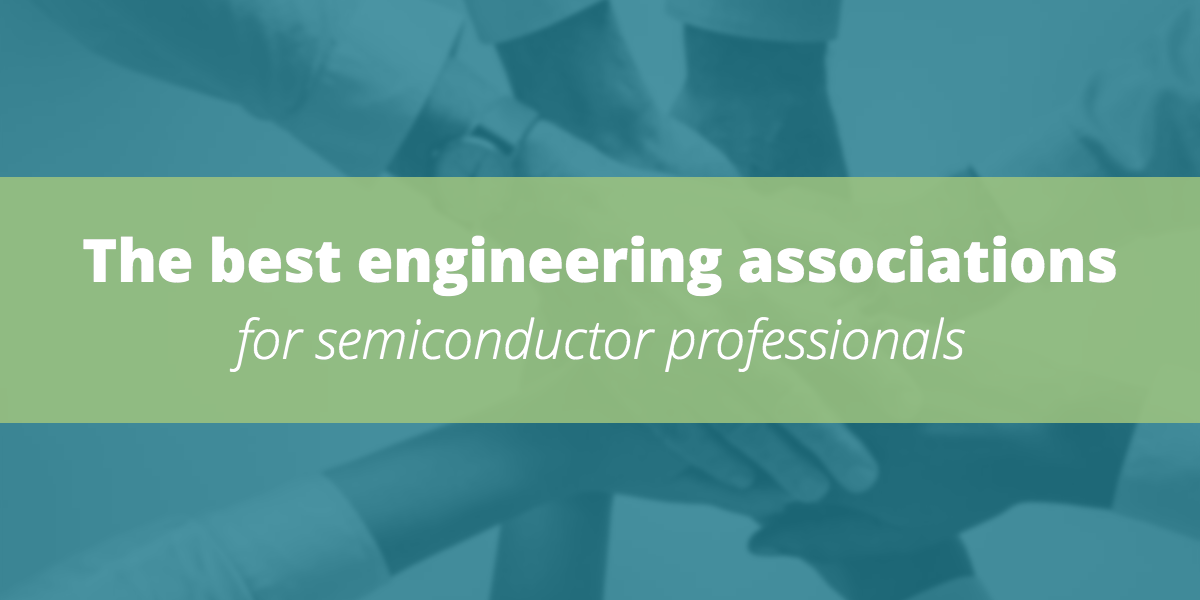 Any engineering veteran could tell you that a fulfilling career in the industry requires much more than a degree. Beyond formal education, there are meaningful experiences that are crucial to an engineer's professional development, such as:
contributing to specialized communities,
and collaborating on projects with leading experts.
But without the right resources and direction, it can be challenging to know how to build a successful and rewarding career. Fortunately, there's a great option available to help engineers advance their careers: joining a professional engineering association.
Semiconductor and Engineering Associations
Active membership in one or more respected organizations is one of the best ways to stay aware of new and changing tech, elevate your reputation as a leader, and gain greater opportunities you might not find elsewhere.
Membership levels usually include student, individual, non-profit, affiliate, or corporate options so interested engineers can select and choose the benefits, resources, and contributions that matter most to them.
While there are plenty of great professional associations to consider, you'll want to join those most likely to impact your career, goals, and fields of interest. Let's explore a few great semiconductor and engineering groups below.
SEMI
SEMI is the global industry association representing the product design and manufacturing chain for the electronics industry. The association hosts SEMICON networking events around the world, provides respected market research, and promotes global advocacy efforts on complex policy issues. SEMI members also have exclusive access to different communities and committees for tailored collaboration and connections.
Semiconductor Industry Association (SIA)
The Semiconductor Industry Association (SIA) advocates for critical semiconductor public policies and regulations to help electronics businesses thrive in today's market. This is a great association for those who want to take an active role in shaping laws and policies around the world. Members can also access competitive market research and trends to make vital business decisions.
Global Semiconductor Alliance (GSA)
GSA is dedicated to global collaboration between executives, partners, and customers to accelerate industry growth and capital in the semiconductor world. As the electronics ecosystem becomes increasingly expansive and complex, GSA aims to enable members' successes by providing them with industry intelligence and tools as well as access to summits and technology forums.
IEEE
IEEE, which bills itself as the world's largest technical professional organization the advancement of technology, is a great option for engineers looking to expand their network. IEEE equips all members with valuable benefits like mentoring opportunities, discounts on products and services, participation in humanitarian programs, and continuing education based on career phase or location.
Society of Women Engineers (SWE)
This engineering association strives to empower women in their careers as engineers and leaders by providing coordinated mentorship programs, career planning resources, seminars, and conferences. SWE also contributes efforts that foster educational equality across all grade levels.
The American Society of Mechanical Engineers (ASME)
ASME sets the safety and quality standard for mechanical devices and encourages knowledge sharing, career enrichment, and skills development across all engineering disciplines. Members can access their digital collection of courses, masterclasses, and certification programs.
Ready to connect?
These are only some of the many great engineering associations to complement your passions and career. Having insider access to worldwide groups can help you build valuable professional connections and have career experiences beyond your screen. Whether you're a newcomer in your field or a seasoned professional, joining an association will help you thrive and nurture your career development.
For more engineering resources and insights, subscribe to our blog.