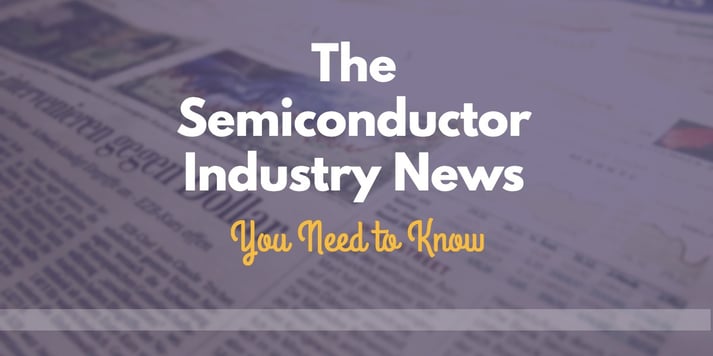 What's been happening in the semiconductor industry lately? We've seen a trend toward company mergers while semiconductor experts make efforts to prepare for increasing challenges in the semiconductor industry. And semiconductor sales didn't do so bad either.
Here's your roundup of recent semiconductor technology news.
Global Semiconductor Sales Reach Highest-Ever Quarterly Numbers
In Q3 of this year, the semiconductor industry achieved its highest-ever quarterly sales. Worldwide semiconductor sales reached $88.3 billion. This marked an increase of sales by 11.5% compared to Q2 of 2016, with China coming out on top as leader in sales. China led regional markets with 5% growth month-to-month and 12% growth year-to-year. In the Americas, month-to-month sales in September increased by 4.2%.
John Neuffer, President and CEO of the Semiconductor Industry Association, believes this to be a marked rebound for the global semiconductor market with September showing "the clearest evidence yet of resurgent sales."
All monthly sales numbers have been compiled by the World Semiconductor Trade Statistics (WSTS) organization and represent a three-month moving average.
Qualcomm Acquires NXP, Upholds Semiconductor Merger Trend.
At the end of October, Qualcomm announced its unanimously approved acquisition of NXP. Board of Directors from both companies came to a definitive agreement for the acquisition that will represent a total enterprise value of $47 billion when all's said and done.
The latest trend in the semiconductor industry is becoming more apparent as we continue to see chipmakers acquire companies offering capabilities within growth markets like IoT (Internet of Things).
"With innovation and invention at our core, Qualcomm has played a critical role in driving the evolution of the mobile industry. The NXP acquisition accelerates our strategy to extend our leading mobile technology into robust new opportunities, where we will be well positioned to lead by delivering integrated semiconductor solutions at scale," said Steve Mollenkopf, Qualcomm's CEO.
When you combine NXP's leading industry sales channels and positions in IoT, security, and automotive with Qualcomm's SoC technology roadmap and capabilities, Mollenkopf states that the joined forces will be "even better positioned to empower customers and consumer to realize all the benefits of the intelligently connected world."
In addition to their better position to empower, this acquisition could increase Qualcomm's market by 40%, a strategic step by Qualcomm in effort to diversify market exposure.
Broadcom Acquires Brocade Communications and Samsung Steps into Automotive Infotainment for $5.5 Billion and $8 billion, respectively.
At the beginning of November, we saw two more important semiconductor mergers set into motion. Chipmaker Broadcom announced its acquisition of Brocade Communications Systems, enterprise networking solutions company to continue this year's merger trend. This acquisition came with a price tag of $5.5 billion along with another $400 million in assumed debt.
"This strategic acquisition enhances Broadcom's position as one of the leading providers of enterprise storage connectivity solutions to OEM customers," said Hock Tan, Broadcom's President and CEO.
Tan believes Brocade's expertise in mission-critical storage networking will increase Broadcom's ability to address the evolving needs of its customers. He also stated the company would try to find a "great home for Brocade's valuable IP networking business that will best position that business for its next phase of growth."
Next, came Samsung's announcement to acquire HARMAN, a provider of automotive infotainment and connected car technology. This $8 billion deal is quite a boon for the South Korean tech company who suffered major financial and PR losses due to its Galaxy Note 7 snafu.
HARMAN has been a dominant player in the automotive tech industry raking in $7 billion in sales last year. This merger will allow Samsung to enter the market with an established brand rather than try to enter on their own, which some critics believe would have been too difficult given their recent PR history.
"HARMAN perfectly complements Samsung in terms of technologies, products and solutions, and joining forces is a natural extension of the automotive strategy we have been pursuing for some time," said Oh-Hyun Kwon, Vice Chairman and Chief Executive Officer of Samsung Electronics.
"As a Tier 1 automotive supplier with deep customer relationships, strong brands, leading technology, and a recognized portfolio of best-in-class products, HARMAN immediately establishes a strong foundation for Samsung to grow our automotive platform...HARMAN's sustained track record of rapid growth fueled by technology leadership and an unmatched automotive order pipeline reflects its commitment to innovation and customers."
PCAST Forms Working Group to Address Challenges in the US Semiconductor Industry.
President Obama and his Council of Advisors on Science and Technology (PCAST) formed a Working Group of semiconductor consultants to join efforts to strengthen the US semiconductor industry. PCAST acknowledges the impending challenges the US semiconductor industry faces due to two main factors: the end of Moore's Law now in site and increased chip competition from China.
The Working Group will assist the PCAST in composing a report and recommendations for the incoming administration. Significant increases to federal spending on semiconductor research, a national lab, and a national fab could be among those recommendations.
Working Group members include former President and CEO of Intel, Paul Otellini; Qualcomm's Executive Chairman, Paul Jacobs; and Laura Tyson, Distinguished Professor of the Graduate School at UC Berkeley, Former CEA Chair, and NEC Director; among other veterans of the semiconductor industry.
"The semiconductor industry has faced challenges before and emerged stronger and more innovative," Commerce Secretary Penny Pritzker said in her policy address. "In today's world – when virtually every sector of our economy relies on technology to conduct business – the stakes are too high for us to cede our leadership."
While China may be emerging as the major threat to US chipmaking like Japan in the 1980s, all players in the semiconductor face the same challenge when it comes to the end of Moore's Law. If the US semiconductor industry can pioneer the new path beyond Moore's Law and the 3-5 nm nodes, they should come out on top of China as well.
We can see the race to discover the solutions for a changing semiconductor industry and hiring the right semiconductor talent will change right along with it.
As we close out 2016, activity in the semiconductor industry shows no signs of slowing down. For more news and updates about the semiconductor industry and hiring the right talent for your engineering team, subscribe to email updates.