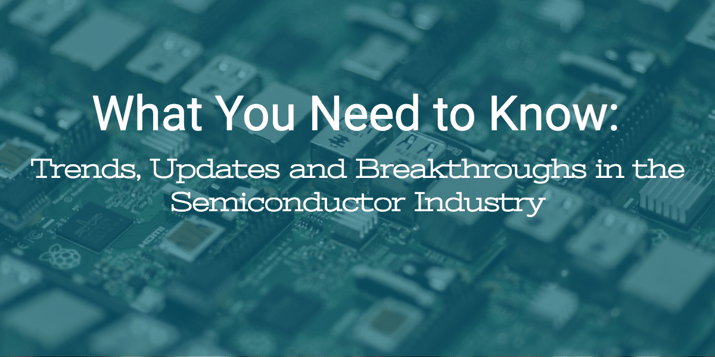 In a recent blog post, we covered some of the big acquisitions taking place in the semiconductor industry. But as those in the industry know, progress happens quickly. And although it's only been a matter of weeks since our last update, there have already been some exciting recent developments that warrant attention.
Semiconductor Sales in Q1
On May 1, the Semiconductor Industry Association (SIA) announced that semiconductor sales reached 30.9 billion for the month of March alone — an increase of 18.1% from the same time frame last year. By the close of Q1, sales had topped 92 billion.
This is the largest increase since October 2010, with all major regional markets posting double-digit year-to-year growth. Additionally, all major semiconductor categories experienced growth, with memory products staying out in front. Intel led semiconductor sales leaders with 14.2 billion, followed by Samsung and SK Hynix at 13.6 billion and 5.5 billion respectively (excluding foundries).
Semiconductor Policy Updates
On May 19, SIA welcomed recommendations agreed to by global semiconductor industry leaders at the 21st meeting of the World Semiconductor Council. This year, the meeting took place in Kyoto, Japan and gathered individuals from around the globe to collaboratively address issues of global concern to the semiconductor industry.
The meeting produced an extensive series of recommendations regarding environment, safety and health practices, protection of intellectual property rights, open trade, investment liberalization and market development. You can view the WSC's full statement here.
2017 SIA chairman, Tunc Doluca, spoke highly of the WSC, calling it "a unique and effective forum for semiconductor leaders from around the world to collaborate in support of mutually beneficial policies." "The recommendations set forth by the WSC this week will help ensure free and fair trade, expand consumers' access to technology, and strengthen the global semiconductor industry well into the future."
The meeting reaffirmed one of the WSC's core missions of ensuring that government policies are guided by market-based principles. To accomplish this, industry leaders adopted a set of guidelines on how to implement semiconductor support programs that stay within international rules and avoid harmful trade distortions. The WSC also reaffirmed its commitment to encouraging additional countries to join the expanded Information Technology Agreement (ITA) and encouraged existing signatories to fulfill their ITA obligations.
Technology Breakthrough
Developers continue to test the limits of silicon. As of Monday, June 5th, an IBM-led group of researchers announced they have developed a brand new transistor design that will allow processors to become even smaller and more affordable than ever before. The technology is made available through an inventive new process that appears to be scalable within the next several years.
Experts are saying this is the biggest breakthrough in transistor technology since 2009, when researchers developed a new transistor design called FinFET — a design that used a 3-D structure to manipulate electric current (instead of the traditional 2-D "planar" system). Although FinFET underpins today's cutting edge 10nm process chips, the design is quickly becoming outdated as it is unable to operate with a 5nm chip.
IBM's new design flips FinFET's vertical fin structure on it's side and layers silicon nanosheets in a manner that effectively results in a fourth gate. Ultimately, this allows developers to get more transistors into the same area to create more computing power. The advancement means 5nm chips could enable a 40 percent improvement over 10nm chips while using the same amount of power. Or, if optimized for power savings, chips could be created with the same level of performance as today's 10nm units, with a 75 percent reduction in required power to achieve that performance.
These advancements will have a profound effect on the competitive landscape of the industry as well as the consumer technology that we'll be using in the days to come. As always, we'll be on the lookout for more developments. So, subscribe to our blog for more industry insights!