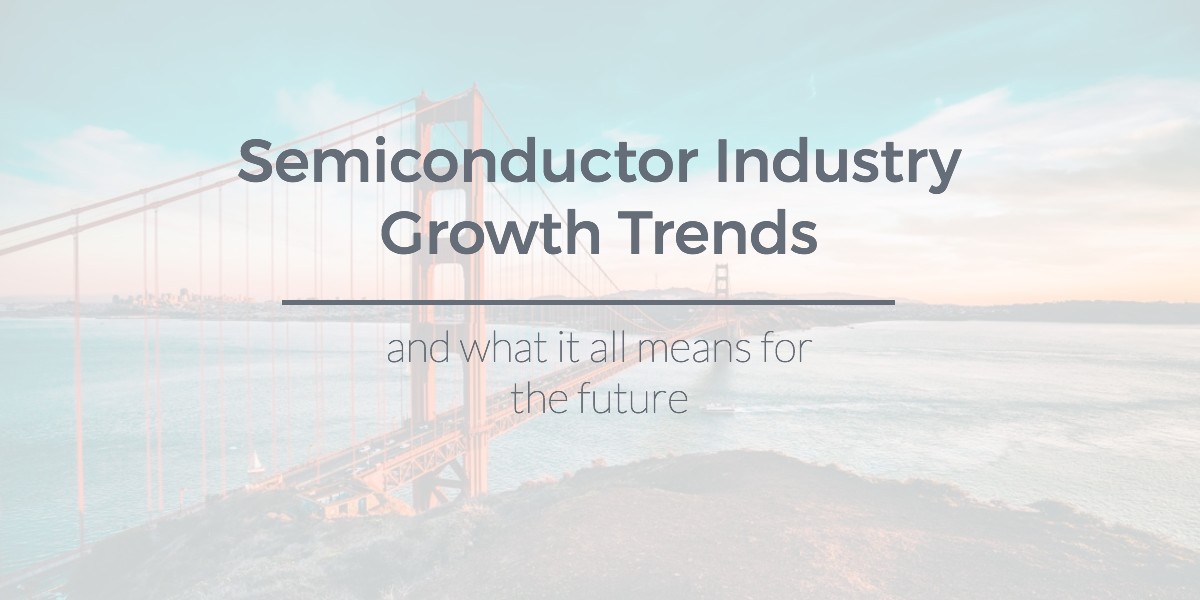 In the beginning of the year, we reported on the trajectory of the semiconductor industry, particularly in the United States. As we noted, the US semiconductor market will face some challenges this year but reports show optimism for a growing global market. The reports from 2016 are in—and it was a good year. Will the successes from 2016 be enough to overcome the challenges ahead?
In this article, let's take a look at the success the semiconductor industry saw in 2016 and dig into the big acquisition trend we're seeing among semiconductor companies and how that will impact the industry.
Semiconductor industry growth in 2016 and 2017
According to the Semiconductor Industry Association (SIA), semiconductors remained an export leader for the United States in 2016. A recently released government trade data report for 2016 lists the value of U.S. semiconductor exports in 2016 totaled $43.1 billion. This makes semiconductor exports the third-highest of any manufactured U.S. export product. The American semiconductor industry not only fuels economic growth, but also provides more jobs and inspires innovation right here in the United States.
Despite total U.S. exports seeing a three percent decline in 2016, U.S. semiconductor exports' value increased by 3 percent from 2015. Semiconductors continue to perform well ahead of other electronics including computer and communications equipment in terms of product exports.
In a recent statement, SIA President John Neuffer said chip sales in early 2017 have been strong, particularly due to DRAM and NAND flash. These same memory products also played a role as key growth drivers for the market's 2 percent growth in 2016. Semiconductors in automotive technology applications have and continue to drive market growth. Microcomponents and integrated circuits used in automotive tech saw more than ten percent growth in 2016.
SIA also announced that worldwide sales of semiconductors saw a 16.5 percent year-to-year increase reaching $30.4 billion in February 2017—marking the the global semiconductor market's largest year-to-year growth since October 2010.
"Year-to-year sales increased by double digits across most regional markets, with the China and Americas markets showing particularly strong growth," said Neuffer. "Global market trends are favorable for continuing sales growth in the months ahead."
Market watchers forecast this growth to continue through the year. IC Insights, Inc. even changed its growth forecast for 2017, more than doubling its estimated chip sales growth for the year.
Semiconductor industry trend: acquisitions to grow, strengthen, and diversify
Last year, we witnessed the rising trend in the semiconductor industry: acquisitions. More and more chipmakers have been acquiring companies that can offer capabilities within growth markets like IoT (Internet of Things) and automotive technology.
Notable acquisitions include Broadcom's acquisition of Brocade Communications, an enterprise networking solutions company, for $5.5 billion along with another $400 million in assumed debt. Despite the rough year Samsung had in 2016, the company took steps to enter the automotive infotainment market. At $8 million, Samsung acquired HARMAN, a dominant player in automotive tech. Samsung believes this move will better position them in the market rather than try to enter on their own.
In one of the largest acquisitions in the semiconductor industry last year, Qualcomm received approval from U.S. Antitrust regulators to acquire NXP Semiconductors for a price tag of $47 billion. In addition, Qualcomm extended its tender offer to all outstanding NXP Semiconductors shares.
This acquisition and its new sales channels have the potential of an annual revenue totaling more than $30 billion. As Qualcomm sees rising competition from Asian manufacturers in this area (particularly Chinese), this acquisition should reduce the dependence on smartphone chips. Qualcomm also hopes to gain benefits from NXP Semiconductors' expertise in security solutions, IoT, and automotive.
The acquisitions haven't stopped in 2017. At the end of March, Analog Devices, Inc. (ADI) acquired OneTree Microdevices, Inc., a gallium arsenide (GaAs) and gallium nitride (GaN) broadband amplifier expert. They did not disclose the deal price. According to ADI, the strategic acquisition should enable complete cable infrastructure solutions for the company.
"OneTree's expertise aligns with ADI's strategic focus on GaN technology and extends ADI's broad portfolio of high performance, RF and microwave signal chain solutions for infrastructure, defense and instrumentation markets," said Greg Henderson, VP of RF and Microwave Business at ADI.
MaxLinear, Inc. also recently completed its acquisition of G.hn home networking and access business from Marvell Technology Group Ltd. for $21 million in cash. MaxLinear is a leading provider of RF and mixed signal semiconductor solutions for the connected home and wireless infrastructure markets. The acquisition brings MaxLinear closer to its goal of expanding its footprint in its existing broadband operator markets.
In what could to be the largest acquisition in 2017 for the semiconductor industry, Avago Technologies acquired Broadcom Corp to form Broadcom Limited for $37 billion. This will bring its rank in market share to number four, up from its previous rank at 11. This is a big step in the direction for Avago to emerge as a leader in the wired application market.
Analog semiconductor vendor Microsemi has made acquisitions part of their business model. Since 2000, Jimmy Peterson (CEO) and Steven Litchfield (EVP/CSO) have strived to grow and diversify the company through acquisitions, achieving 30 so far between the two of them. Today, the company specializes in analog, mixed-signal, and integrated circuits with a product line including power management, wireless and optical communications, high-power devices, RF/microwave/millimeter wave, FPGA/SoC, drivers and interfaces, and audio.
But how these acquisitions and mergers impact the semiconductor industry? There are pros and cons to this industry restructuring.
How will the increase in acquisitions impact the semiconductor industry?
While companies may be strengthening their expertise and sales channels, the possible negative consequences cannot be overlooked. If these acquisitions mean a decrease in competition, it could likely lead to an increase in component pricing. OEMs have less incentive to remain competitive over pricing. Experts also fear loss of diversity in available parts, component obsolescence, and overall lack of drive for innovation.
We will have to continue to see what unfolds in the market in 2017. The semiconductor market is a global one. In order to ensure these U.S. semiconductor companies can reach all markets and continue growing, the foreign markets should remain open. SIA is working with Congress and the Administration to strengthen the industry and has made free trade a top policy priority for 2017.
For more industry news and updates, subscribe to the semiconductor blog.