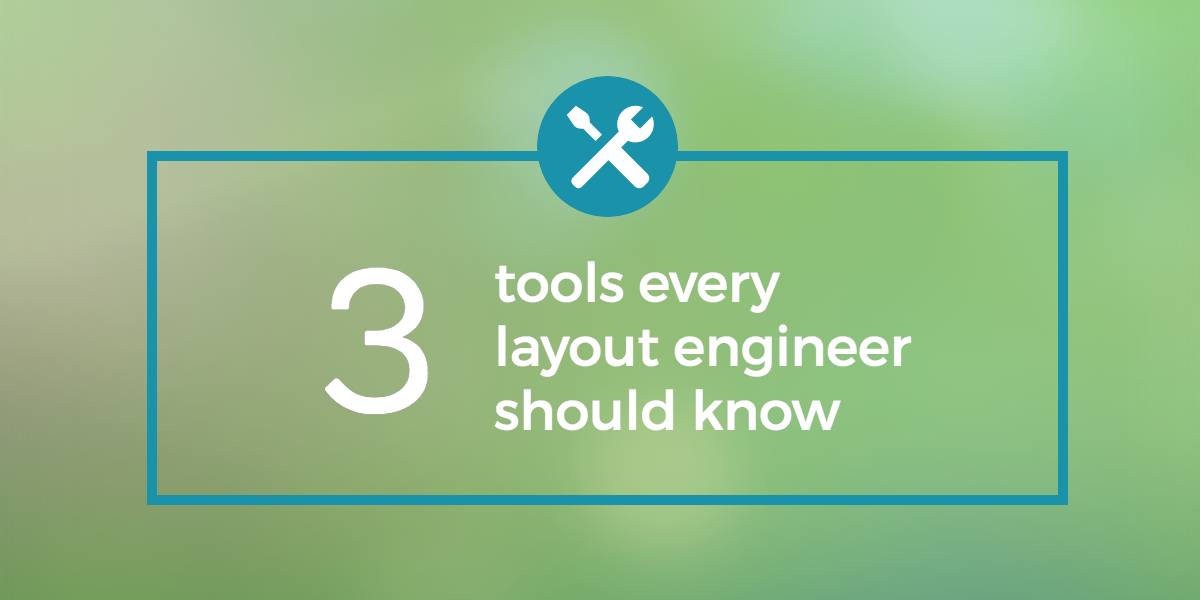 The realm of semiconductor jobs is big and diverse. Engineers of all disciplines and experiences play a role in creating the next generation of electronics. But an innovator needs the right resources to stay ahead of the game. Whether you're a budding engineer or a specialist looking to make a switch, having the necessary tools of the trade is as important as knowing the technical know-how of the craft.
We know what tools design engineers should use, but what about layout engineers? While they often design plans and manage projects together, layout engineers use key instruments that drive their work from conception to completion. To keep up with advancements in the semiconductor field, engineers must master their tools and grow skills beyond those used in technology. Having a complete understanding of design software and practical interpersonal skills can impress recruiters and prepare you in the semiconductor field.
What do layout engineers do?
Layout engineers research, plan, and oversee circuit layout and production. They use their knowledge of electronic and mechanical systems to convert schematics into full custom layouts of analog, digital, and mixed-signal designs. They also ensure layout quality and performance optimization. Typically, layout engineers work in analog/mixed-signal (AMS), radio frequency (RF), and custom digital design in the integrated circuit (IC) field.
How do I become a layout engineer?
Breaking into this field begins with a bachelor's in electrical engineering or related program. Prospective layout engineers have a solid foundation of technical design and architectural drawing using CAD programs or programming knowledge using PERL or Java. The integrated circuit field is a big world, so earning a master's in electrical or computer engineering is recommended to become an expert in this industry.
Let's take a look at key skills to master future career success.
IC Design Software: Cadence Virtuoso
Strong working knowledge of an electronic design software is crucial to help with schematic layouts, verification, and circuit characterization. But which tool helps you master this craft? The Cadence Virtuoso Layout Editor supports custom analog, digital, and mixed-signal designs at the device, cell, block, and chip levels. Widely used among seasoned layout engineers, the Virtuoso platform is one of the industry's most comprehensive custom IC design platforms. If you're interested in Analog Layout or Mixel Signal work, Cadence Virtuoso is a must.
EDA Software: Altium
While semiconductor giants like IBM, NVIDIA, and Huawei Technologies use Cadence EDA (electronic design automation) tools such as Allegro or OrCad, Altium Designer is increasing in popularity among smaller tech companies. When engineers juggle several applications during the course of their work, Altium provides a full suite of circuit design tools to help them focus less on process and more on design. Equipped with schematic capture, PCB layout, and design data management, Altium supports complicated and complex designs in a full 3D capture.
Soft Skills
Having technical chops is just half the battle. As cutting-edge technology pushes the standard for qualified candidates, companies are looking for talent with both strong interpersonal skills and technical skills. This rings true for layout engineers; they collaborate closely with circuit design engineers and technical specialists to understand requirements, troubleshoot problems, and implement the requested layouts. To be effective in this role and gain a competitive edge, layout engineers should have:
Strong verbal and written communication skills for business writing, technical writing, and public speaking.

Creativity to improve utility and innovation for products, processes, and services.

Adaptability to manage different workloads and identify solutions to unforeseen problems.

Collaborative skills to work with varied groups of engineers, clients, and stakeholders.
Layout engineering requires a firm understanding of the basics, careful application, and a lot of creativity. Sharpening your skills in software knowledge and creative thinking is a talent that reaps high value and stands out in the long run. Feed your mind with semiconductor industry news, trends, and educational resources when you subscribe to the semiconductor blog.