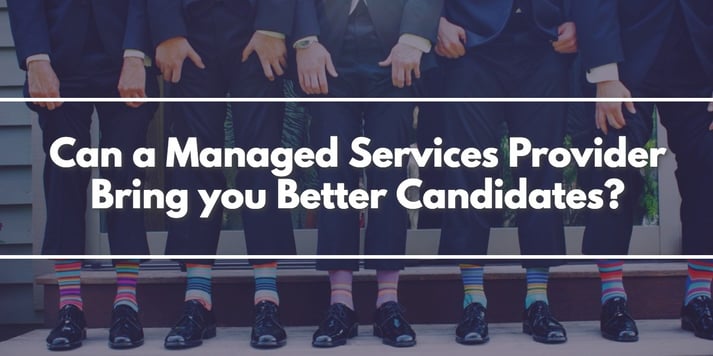 Today, contingent workers make up more than 40% of the U.S. workforce. With those numbers, it's no surprise the trend is on the rise for companies with blended workforces. Blended workforces utilize a mix of full-time and contingent workers making the workforce management an even more complex process. To help bring efficiency and solutions to the complicated workforce situation, many companies are turning to Managed Services Providers (MSPs).
What does a Managed Services Provider actually do—do they add value or make things more complex? This is a common question businesses face as they consider how to manage their contingent workforce. When a company decides to outsource everyday labor management functions to a third-party, they may turn to an MSP. An MSP helps increase efficiency across a company's workforce in a way full-time staff, like a hiring manager, may not be able to do. MSPs also help drive business objectives and provide visibility into the labor situation in a way a staffing agency may not be able to do on its own.
Managed Services Providers manage all aspects of contingent labor. MSPs can handle day-to-day workforce management and supplier relations while also managing recruiting, hiring, staff augmentation, and onboarding/offboarding for your contingent workforce. While it may seem like they're one more party to keep up with, the truth is they take a huge load off your full-time staff, particularly your hiring managers.
Business-to-business companies are turning to Managed Services Providers more than ever. B2B companies surveyed stated the following reasons for utilizing an MSP for their business:
63% said B2B Managed Services allowed them to improve planning for budget and resources.
59% were able to reduce costs related to B2B integration (developing maps, onboarding business partners, etc.).
78% of those using managed services for 5 years or more agreed that it improved efficiency of onboarding new partners.
According to CompTIA's Annual Trends in Managed Services report, "the global managed-services market is predicted to grow to $193B by 2019, at a Compound Annual Growth Rate (CAGR) of 12.5%." More effective, efficient, and secure operations encourage businesses to turn toward managed services for support.
Besides saving time and increasing efficiency, an MSP provides a valuable asset to your company: better candidates.
Why you should work with an MSP and get better job candidates
More staffing agencies, more problems
It may be tempting to handle all the work it takes to manage a contingent workforce on your own in effort to save money. You may throw your net out to a slew of staffing agencies believing the old myth that the more staffing agencies you work with, the better chances you have of getting the best talent. But, working with many staffing agencies at once means you're hiring manager is juggling more contacts. It also means staffing agencies may not give you their full effort if they know they're competing against a lot of other agencies.
Developing a relationship with an MSP that does their own staffing is the best option to ensure you're treated as top priority. It's also the best way to ensure you receive high quality candidates that are the right fit for your company.
In addition to being a top priority, working with an MSP instead of many staffing agencies means open and clear lines of communication. If you're trying to find the best talent from a large number of agencies, you're limited to a short job description and budget, at best. With an MSP, you have the opportunity for an on-going relationship. You can discuss business and talent needs throughout projects. Over the course of the relationship, your provider can come to know the needs and nuances of your company and its culture. They're better positioned to find high quality candidates that are an overall better fit for your company—not just a keyword match in a database.
Focus on your mission, while MSPs utilizes their expertise
Any business in the semiconductor industry is more than likely going to more experienced in their field than in the hiring process. An MSP, on the other hand, has developed their entire business around knowing and vetting available talent and managing that talent in a blended workforce environment.
On average in the U.S., it takes over 58 days to fill a vacancy for an engineer position. And that's just the hiring process. After you've finally found the right engineer for your project, you need to onboard, train, and manage them. Then, you start the entire process all over again when the next project comes around.
MSPs know this process backwards and forwards. Well-established MSPs have optimized the hiring process. They develop relationships with top-quality candidates they can call upon whenever a need arises or a new project comes up. They vet candidates on a consistent basis and keep a repository of the best talent that's ready when you need them.
While your MSP is taking care of all this, you're focused on fulfilling your company's mission. And no one is wasting any time.
At Talent 101, we not only develop relationships with top semiconductor talent, but also seek out specialists in a variety of fields. That way, no matter your project, we know we've got the best talent and expertise ready to work on your project, from software developer to verification engineer and everything in between.