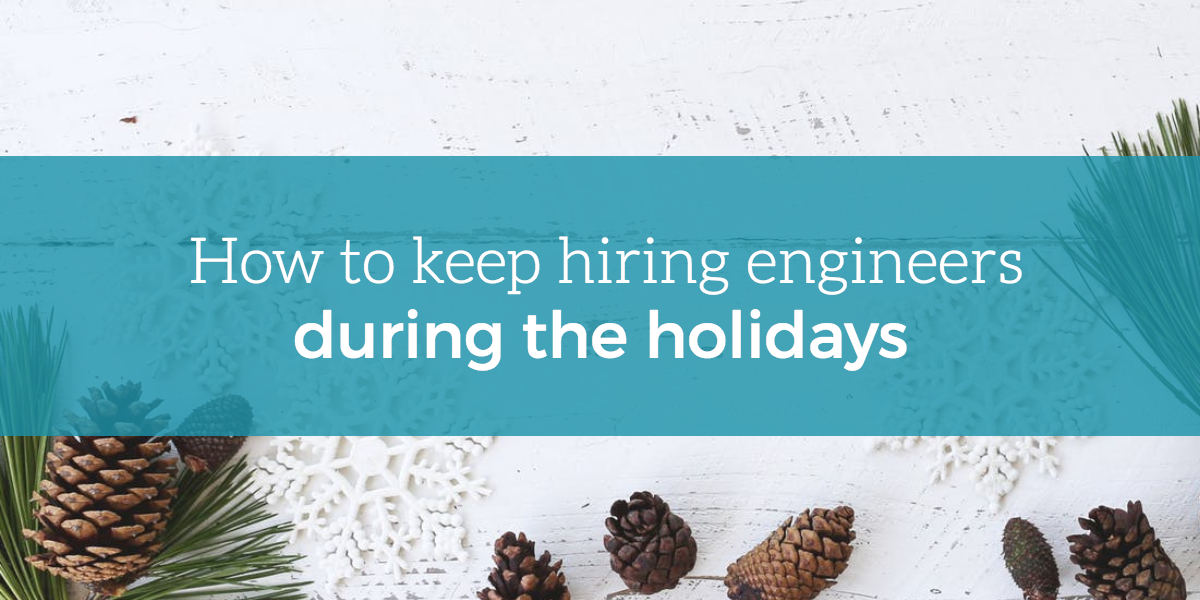 After months of recruiting and hiring top engineering candidates, it's finally the time of year where you can look forward to a well-deserved break. But while the holidays are a great time to cash in those vacation days, it's also a golden opportunity to discover and hire the best candidates.
Don't let the best engineering candidates go cold over the holidays. With less competition and a dedicated candidate pool in the winter season, it makes good business sense to maximize your efforts before you ring in the new year. Stay proactive and finish the year off strong by adopting these tactics into your holiday hiring agenda.
Reach out to your current engineering candidates
Whether you're wrapping up the rest of your projects or getting swept up in the winter spirit, it's easy to forget simple communication manners. Leaving quality engineering candidates hanging without a word is the fastest way to lose them. With some preparation, hiring managers can keep candidates engaged throughout the holidays.
Set aside time to update your active engineering candidates about their application status or your hiring decision. A short-and-sweet update reassures them that they're still a priority. If you're strapped for time, you can send an email batch informing candidates that the hiring process will resume shortly after the holidays.
Resume interviews after the holiday rush
It might be difficult communicating with your engineering candidates when they're between vacation plans. Exercise patience and give them the benefit of the doubt if they don't respond right away. Quality candidates are usually worth the wait.
Coordinate calls when candidates are available to talk. Persistent communication shows you take them seriously and value their time. If December looks packed, organize a date in January to continue technical interviews.
In the meantime, dive into your candidate repository, and see if anyone fits the bill for open roles. Another look at your available resources offers you a chance to see qualified applicants you might've overlooked.
Don't hurry to fill roles
While it's tempting to hire engineers and technicians just to meet end-of-year deadlines, it can also lead to poor and sloppy hiring decisions. Candidates might opt out if you push them too hard for an answer. A healthy candidate pipeline requires reasonable expectations and time for interviews, coding exercises, and negotiations.
Instead, ask about their timeline for the next few months or what projects they're working on. Having a friendly conversation, instead of rushing the process, helps you make meaningful connections with crucial hires in the future.
Deck out company profiles with achievements
The holiday season is a great time to celebrate company achievements and announce growth plans for the new year, including listing open roles in your team. Bolstering your company's reputation with past successes helps you attract prospective employees who are looking for companies with a positive brand and culture.
Consider creating a list of specific social messages to advertise open positions. While celebrating with colleagues, slip in any fun office festivities in your holiday campaigns and encourage others to spread the good cheer.
Reflect on past trends and results to plan ahead
How did the length for hiring specialized roles compare to previous years? Looking at your metrics, what was the time-to-hire or -productivity? Taking some time to review past trends and results helps you gear up for next year's hiring plans.
With the uptick in business in January, it's wise to prepare ahead of time so you can handle application surges with ease. There are also highly motivated applicants who submit their resumes before the new year to get a head start in their candidacy. In this case, make sure to spell out when you're looking to hire in the job descriptions to prevent confusion.
Kickstart the new year with strategies and tactics for building the best engineering team possible with our Guide to Hiring Top Engineering Talent. You'll learn how to optimize your hiring process and become a competitive force in the semiconductor industry. May your next year be the best yet.