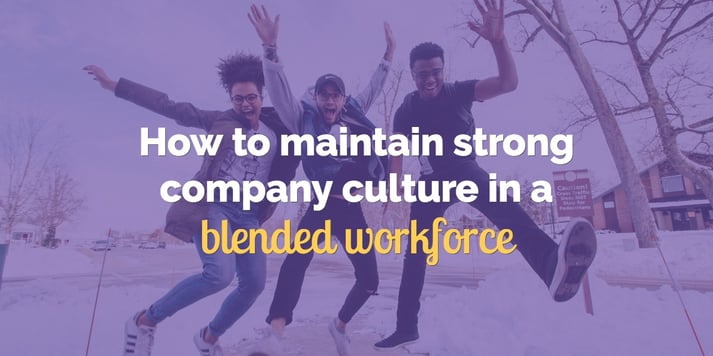 Over the last decade, the amount of contingent labor making up the U.S. workforce grew more than ten percent. Today, more companies recognize the value of blended workforces—enough to make up 40.4% of the workforce, a figure that's expected to only increase in the coming years. A blended workforce incorporates contract or freelance workers into the mix with full- and part-time employees. This type of arrangement can be mutually beneficial for both the employer and the worker offering advantages like flexibility and specialized skills for specific projects.
Employers look to contingent workers for a number of reasons. If they need to fill a vacancy left by an employee on leave or want to bring in someone with a highly specialized skill set for a new project, or even test out a temporary working situation that could eventually become permanent. Whatever the reason, more employers embrace the contingent worker than ever before.
But that doesn't mean a blended workforces comes without challenges.
We are all aware of the importance of a healthy company culture for today's workforce to be productive, engaged, and successful. You may have worked hard to promote your company culture through everything from team retreats to happy hours, even community outreach programs. As soon as contract workers enter the picture, the culture you've worked so hard to develop can be shaken.
How can you utilize a contingent workforce without compromising your company culture? A strategic plan for blending your workforce can make a big difference in the company culture outcome.
Onboard them onto your team
While contract workers may not require any specific skills training, some type of onboarding program is essential. They may be brought in on a project because of their specific skillset, but they will not come in trained on your company and the nuances of its culture. They probably don't know all the protocol or unwritten rules of the company and could end up feeling excluded without any kind of briefing. Have someone show them the ropes, so to speak, and help them feel welcome in their new, albeit temporary, home.
Set expectations
This one is for both the contingent worker and the full-time employee. If you're going to utilize a blended workforce, chances are feathers will ruffle. The differences in your types of workers can make a difference in how they perceive the company and their own work. Full-time employees may feel like contract workers aren't in it for the long haul and contract workers may feel like they are the experts and therefore the ones in charge. It's likely that miscommunications will occur, tensions rise, and conflict follow.
Be clear with both sides about the project expectations: who is responsible for what, who answers to whom, and how (and how often) will we communicate and collaborate with one another? Creating an SoW (statement of work) for the project can help ensure clear expectations for all parties.
Encourage collaboration and community
Create time for whole teams, both contract and full-time employees, to meet together. This could be time to brainstorm, reflect, and cover any communication issues or project obstacles they may have. This could be done in the form of a stand-up meeting.
Invite contract workers to get involved with company clubs and activities just like any other employee would. Treat them as part of the team. When they're invited in as a member of the team, they'll start playing like one.
Use a Managed Services Provider
Staying on top of recruiting and hiring for a contingent workforce takes a lot of time and effort. A managed services provider can take care of that for you. At Talent 101, we find and vet the top talent in the semiconductor industry and handle all the other every day management functions for your contingent workforce. Feel confident knowing you're getting top-quality talent with a managed services provider in addition to the many other benefits of using an MSP:
Improve efficiency and reliability of operations

Reduce IT security and compliance risks

Take a proactive approach to maintenance

Access talent with highly-specialized skill sets

Allow staff to work on strategic projects

Access and quickly implement new technologies

Switch from capital expenditures to operating expenses

Maintain predictable pricing
An MSP can capitalize on opportunities for learning and adopting company culture while providing a strong support system to your contingent workforce. Develop a contingent workforce sourced from experienced and diverse candidates while maintaining a strong workplace culture for your business.
Get skilled and experienced semiconductor talent that's ready when you need it. Get updates from the Talent Circuit for the latest available talent ready to start on your upcoming project.