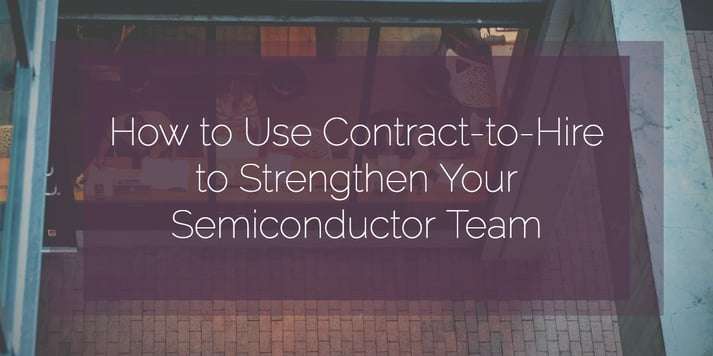 Talent recruitment for semiconductor positions can be a competitive process. Because semiconductor projects require a specialized kind of knowledge, it can be all too tempting to quickly settle for a new candidate for a vacancy in your company. However, a hire that's not a good fit for your company will eat up time, energy, and resources.
Common in the tech industry, contract-to-hire positions can be beneficial to both the company and the candidate. This arrangement can help identify personality conflicts or a mismatch in what the candidate knows and what the company needs— before anyone has committed to full-time employment.
"Interviews are not enough to truly understand a candidate's personalities or capabilities," says Marisa Vrona of the Wunderland Group. "The contract portion is a trial run to ensure that the candidate lives up to their resume."
Minimize the risk of hiring the wrong talent by increasing visibility into the hiring phase and ultimately strengthening your semiconductor teams.
To build a strong semiconductor team, give candidates a try before the commitment of a full-time employee position.
Here are four ways contract-to-hire positions can help your hiring process for strong semiconductor teams:
1. Verify that their knowledge & skills match your needs.
Even if people are careful about not misrepresenting their strengths and expertise on a resume, neither a resume nor a job interview can be most informative format for getting at what a candidate really knows. In the semiconductor industry, the breadth of technologies and information a semiconductor professional is expected to know can make it easy for some misunderstandings of just what specialties a person has to occur.
Working together on a contract basis will give you a chance to make sure the skills and strengths a candidate brings to the company don't overlap too much with those your team already has, but rather add to the company and build the strength of the semiconductor team. You also want to verify that the candidate can work well within the systems and technology you use.
2. See how they work with your team.
Sometimes you add an employee to a team and they fit like a glove. Other times, there are interpersonal issues you can't predict in advance. Personality conflicts can decrease efficiency, increase stress, and result in inferior work from people who would be great at the same job in a different context. It's much better to find out what personality issues exist before someone gets hired in a long-term capacity or it could cost your company big time.
Having a personality that doesn't fit well with one team doesn't mean a candidate may not still be a good fit for your business in a different department. A contract position will give you the chance to figure out which personality types a candidate works well with and which should be avoided, so that you can make a more informed decision about where in the company the candidate's strengths could still be best utilized.
3. Make sure they're a good fit with your company culture.
Culture isn't just something to discuss on business retreats. It colors what the day-to-day experience at a company looks like. If your company has worked to develop a strong culture, having a professional come in who doesn't quite fit in or appreciate what you're doing can have a negative effect.
Some people just work better in certain environments than others. Some semiconductor professionals will fare better in a laid back culture more concerned that work gets done than how it gets done, others will be much more productive in a well-structured environment with more planning and clarity of expectations. Contract positions for engineers give you a chance to evaluate whether a person works well in the environment particular to your company. If not, it's better for both of you to figure that out sooner rather than later.
4. Keep communication lines open
A contract-to-hire position is for the benefit of both the company and the candidate. If you want to get the most out of the situation, it's important to keep lines of communication open for both parties to provide feedback as needed. Encourage your contract-to-hire talent to be open about how they feel they're fitting in with company culture and your semiconductor team. Don't wait until the contract period is over to provide feedback to the talent. Start practicing early and often and encourage your talent to do the same. With open communication, both parties can be honest about how the fit is working and what steps may be necessary to improve it.
A contract-to-hire position can be beneficial to your semiconductor business, but you'll need the right tools to be sure your next project is a successful one. Get our Statement of Work Checklist to help you set goals, define expectations, establish milestones, and more for your next project.