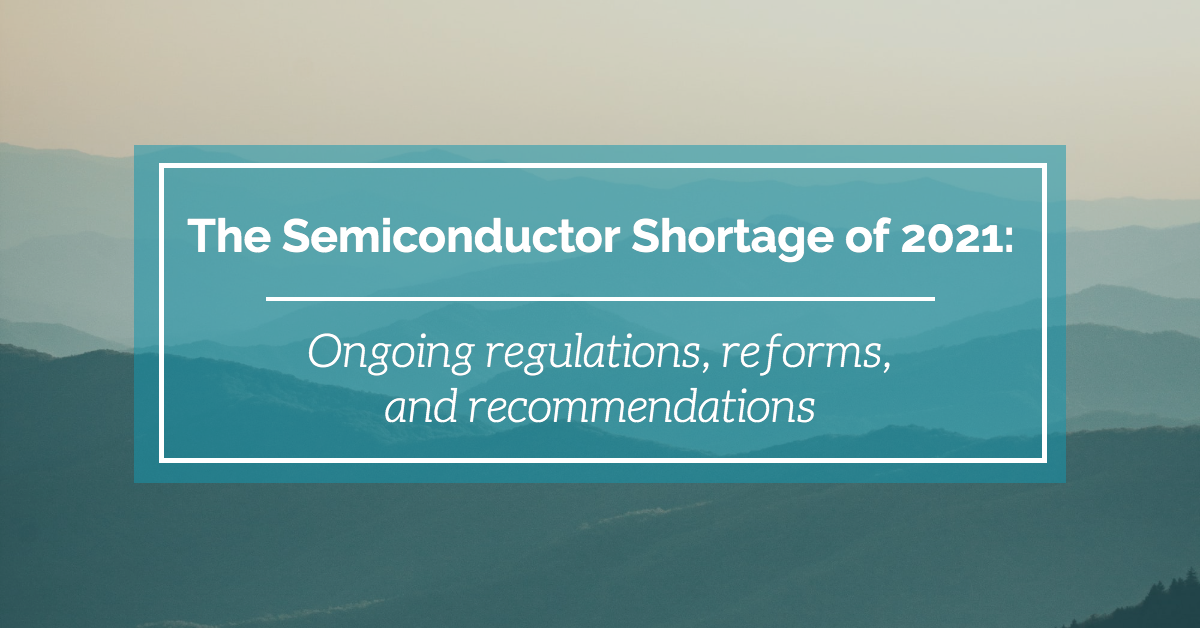 There's a global shortage of semiconductors, and it's reaching a crisis point.
The automotive industry has been hit the hardest as major automakers face temporary stoppages. Even high-tech companies like Nvidia, Sony, and Microsoft struggle to source graphic cards, delaying many of their anticipated releases.
Several factors contributed to the decline of U.S. dominance in the semiconductor industry. Competition with China created harsh economic conditions for domestic semiconductor manufacturing. As much as 70 percent of the world's semiconductors are also manufactured by two foreign companies: Taiwan Semiconductor (TSMC) and Samsung. Moreover, pandemic lockdowns hiked up demand for electronics as people looked for more indoor entertainment, thus increasing production stress. The most recent blow to chip production was a sharp rise in bitcoin prices. A now trillion-dollar market accelerated the consumption of advanced chip and computing equipment.
Solutions to regain the edge in domestic chip manufacturing
In a previous article, we explored key initiatives to boost chip production, including:
building incentive programs to build U.S.-based chip fabs
forming semiconductor partnerships to create new technologies
leveraging alternative ways to advance chip design
Major technology trade groups also outline new detailed steps to ensure greater global diplomacy and domestic tax relief. In a report by The National Security Commission, technology leaders propose a coalition of partners to promote the design, development, and use of emerging technologies based on democratic norms. The Semiconductor Industry Association (SIA) also urges the passing of targeted tax incentives, credits, and reforms.
In efforts to cement these commitments and more, Congress enacted several federal laws and regulations.
CHIPS for America Act
As part of the U.S. government's annual defense policy update in 2020, Congress passed the Creating Helpful Incentives for Producing Semiconductors (CHIPS) for America Act. This legislation authorizes R&D initiatives as well as a subsidy program for domestic chip manufacturers. Among its initiatives, the act also hopes to help commercialize new technologies, develop research strategies, encourage international partnerships, and expand workforce training programs.
American Foundries Act of 2020
As an amendment to the same defense policy update, the American Foundries Act of 2020 is a bill to support the production and development of microelectronics in the United States. By awarding up to a $15 billion dollar grant to States, the bill aims to modernize and secure leadership in microelectronics.
American Innovation and Jobs Act
According to a research report, the amortization of research expenses and low national R&D tax credits will make the U.S. less attractive for research investments. A 2021 bipartisan legislation dubbed the American Innovation and Jobs Act aims to repeal tax provisions for companies wanting to perform R&D in the U.S. The act will help startups and small businesses claim a tax credit or deduct their investments. Additionally, it reverses a change in the 2017 tax law to ensure that companies can continue to deduct R&D investments each year.
President Biden's executive order to secure U.S. supply chains
In the wake of essential resource shortages and job losses, President Biden signed a landmark executive order calling for a review of supply chains on critical products, including semiconductors. The order requests a 100-day review across federal agencies to address supply chain risks and a more in-depth year review of broader supply networks. The action also directs federal agencies to make policy recommendations for U.S. supply chain security and resiliency.
Paving the way for serious chip reinvigoration is no small feat. Effective solutions will require the collaboration of global partners, sustainable frameworks, and more federal commitments at scale. If you're interested in what's next for the semiconductor manufacturing landscape, make sure to subscribe for updates from the Semiconductor Blog.