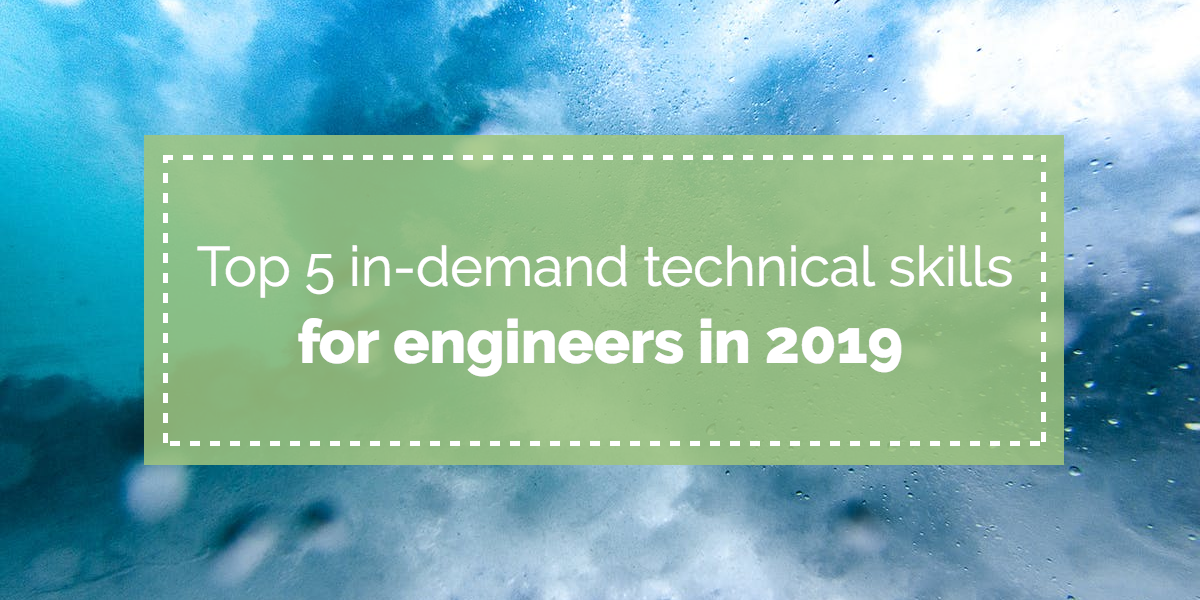 New technology has a way of keeping us on our toes with impressive advanced features and architecture. But this innovation also creates new challenges that ratchets up the need for top talent. But for veteran and new engineers alike, that raises the question: what skills do engineers need to keep up?
Engineers can bring a lot to the table with a good balance of soft and hard skills. However, growth and mastery in any career field requires continuous learning and practice. In our article, we'll explore which in-demand engineering skill sets are expected to grow in 2019.
Blockchain
Blockchain—unheard of until a few years ago— has quickly risen to prominence because of its potential for a wide range of applications across various industries. In fact, IDC reports that thirty percent of manufacturers and retailers will rely on blockchain technology to manage collaborative supply chains by 2021.
Ethereum is one of the biggest players in the blockchain space, which makes it valuable for blockchain engineers to know about. This blockchain platform hosts an active community working on improvement proposals and protocol development, making it an important hub of engineering innovation. To carve out a niche in this space, engineers should have solid knowledge of coding languages like Solidity and Node.js.
Artificial intelligence (AI)
It's no wonder AI has grown exponentially in the past few years; it's the engine behind many autonomous tasks that enhance machine or human performance. Stanford's AI index report states VC funding for AI startups in the U.S. increased 4.5 times from 2013 to 2017. Job openings for deep learning also increased 35 times from 2015 to 2017, citing machine learning as the top skill requirement.
The skills needed to create AI tech include expertise in areas like neural networks, deep learning, and machine learning. Important skills also include comfort using open source platforms like Tensorflow and a command of coding languages like Python and C++.
Mobile application development
Mobile development remains a valuable skill set, as millions of people remain glued to their phones every day. With the increase in demand for apps in both the Android and iOS platforms, the demand for skilled developers has also increased.
For that reason, developers should add Google Flutter to their list of skills. Google Flutter is a free and open-source mobile software tool that enables developers to create Android and iOS mobile apps in the same place. In addition, engineers interested in mobile development should develop an aptitude for methodology like Progressive Web Apps (PWA) that help improve user experience.
Analytical reasoning
As organizations struggle to get a handle on the rising tide of available data, data management and analytics skills are in high demand. Many industries will require data scientists to manipulate and read data using sophisticated techniques. According to LinkedIn's Most Promising Jobs 2018 report, data scientist job openings have a 45 percent year-over-year growth rate.
Although Python and R are the leading languages of choice for data scientists, an open-source software framework like Hadoop can give you a leg up in the competition. Intuitive dashboards like Alteryx and Tableau are also useful for data visualization and mapping.
Cybersecurity
As technology evolves, so do cybersecurity vulnerabilities. Unprecedented threats like data breaches and cyber attacks come with heavy costs. To mitigate threats and protect their companies, employers are looking for cybersecurity experts equipped with the latest skills. Today, there is a huge gap in this job market; Cybersecurity Ventures expects 3.5 million unfulfilled cybersecurity jobs by 2021.
When employers evaluate cybersecurity candidates, they often look for certifications like CompTIA CySA+ as a measure of merit and quality. Malware analysis, a solid grounding in IT fundamentals, and coding skills (C, Java, and Python) are also key qualifications and skill-sets for cybersecurity professionals.
Want to stay ready for the future of tech?
Subscribe to the blog to keep tabs on latest and greatest trends and tools of the trade to maximize your success in the job market.