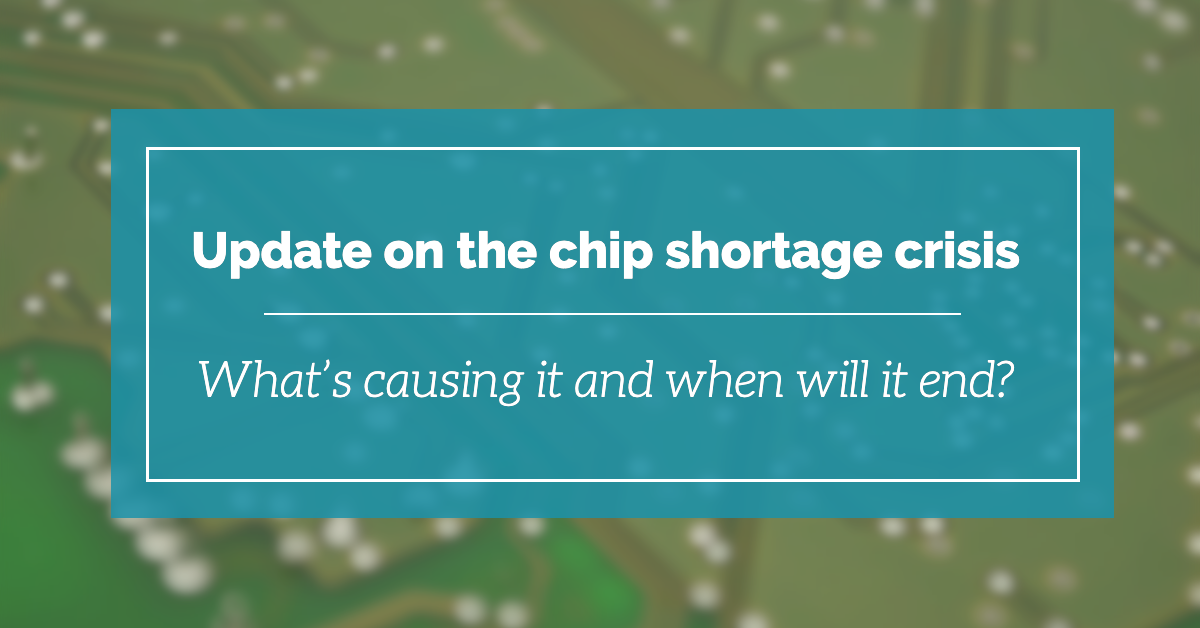 Third-quarter news on the global chip shortage crisis is not much better than it was in the first quarter of 2021. In fact, it's downright brutal. Here are just a few of the recent headlines:
"Global chip shortage 'is far from over' as wait times get longer," said The Wall Street Journal.
The "semiconductor shortage that has hobbled manufacturing worldwide is getting worse," announced the Washington Post.
"It will get worse before it gets better," reports Fitch Solutions.
What's causing the ongoing shortages?
A number of factors are at the root of the multi-layered chip shortage. Along with the leading accelerator, Covid-19, other factors are at play now as well.
According to The Wall Street Journal: "The chip-making process is under duress from beginning to end. Demand didn't moderate as expected. Supply routes got clogged. Unpredictable production hiccups slammed factories already running at full capacity. Basic building-block materials such as substrates are in short supply. Mishaps from bad weather and fires have interrupted wafer production. The final stage of manufacturing has been undercut by virus outbreaks and subsequent factory closures in Malaysia, which specializes in product packaging. Global shipping constraints have added to disruptions and delays."
According to the Washington Post: "As new coronavirus infections halt chip assembly lines in Southeast Asia, (they are) forcing more car companies and electronics manufacturers to suspend production. A wave of Delta-variant cases in Malaysia, Vietnam, and the Philippines is causing production delays at factories that cut and package semiconductors, creating new bottlenecks on top of those caused by the soaring demand for chips. Manufacturers are placing chip orders larger than what they actually need because they're concerned suppliers won't fill their entire order. That makes it hard for semiconductor factories to know what they must supply to meet real, short-term needs — and how much they should invest in new production lines."
According to Fitch Solutions: "While there have been substantial investment commitments made into the semiconductor industry thus far in 2021, it will take several years before the planned spending will translate into increased production given the complexities of setting up new plants and the need for semiconductor makers to negotiate with governments to secure adequate water supplies and state and national government-level fiscal support in the form of direct funding and other tax incentives."
When will the chip shortage end?
Most sources are giving similar answers when predicting an end to the global chip shortage. In all cases, it's much longer than everyone hoped.
According to The Wall Street Journal: "This is playing out considerably longer than we initially thought. Some buyers trying to place new orders are getting delivery dates in 2024. Wait times for chip deliveries have continued to climb above a healthy threshold of 9 to 12 weeks. Over the summer, the wait stretched to 19 weeks on average. But as of October, it ballooned to 22 weeks. It's longer for the scarcest parts: 25 weeks for power-management components and 38 weeks for the microcontrollers that the auto industry needs. Scott Wren, senior global equity strategist at Wells Fargo Investment Institute, said he would have thought six months ago that chip shortages would start easing by this time. But now he said they will likely last until 2023. Wells Fargo Investment Institute recently revised down its U.S. GDP forecast to 6.3% from 7% as the chip shortage limited the supply of consumer goods."
According to the Washington Post: "Pat Gelsinger, the chief executive of Intel, the U.S.'s largest chip maker, said he expects shortages to last into 2023. Others say it could last through the end of that year. 'The chip shortage continues to get worse and at this point we're going to go through 2023,' said Ambrose Conroy, founder of Seraph Consulting, which is advising car companies on the crisis."
According to Fitch Solutions: "We still only expect an overall improvement in the global supply of chips from mid-2022 onwards as new chip production capacity starts to come online. However, there will still be a shortage to some extent until mid-2023. We believe that the spread of Covid-19 and related public health measures and restrictions will remain major disruptors to chip production in Asia, thereby compounding the risks in the complex chip supply chains. We also believe that it will likely take at least another quarter for chip producers affected by the new variant of Covid-19 to work through the backlog of orders."
In this turbulent time for the semiconductor industry, the last thing your organization wants to deal with is a talent shortage. To ensure that your company has the right talent to keep your operations running smoothly, don't hesitate to reach out to us for help. With our Talent 101 Circuit, you can access the best available candidates for your open positions. Learn more here.