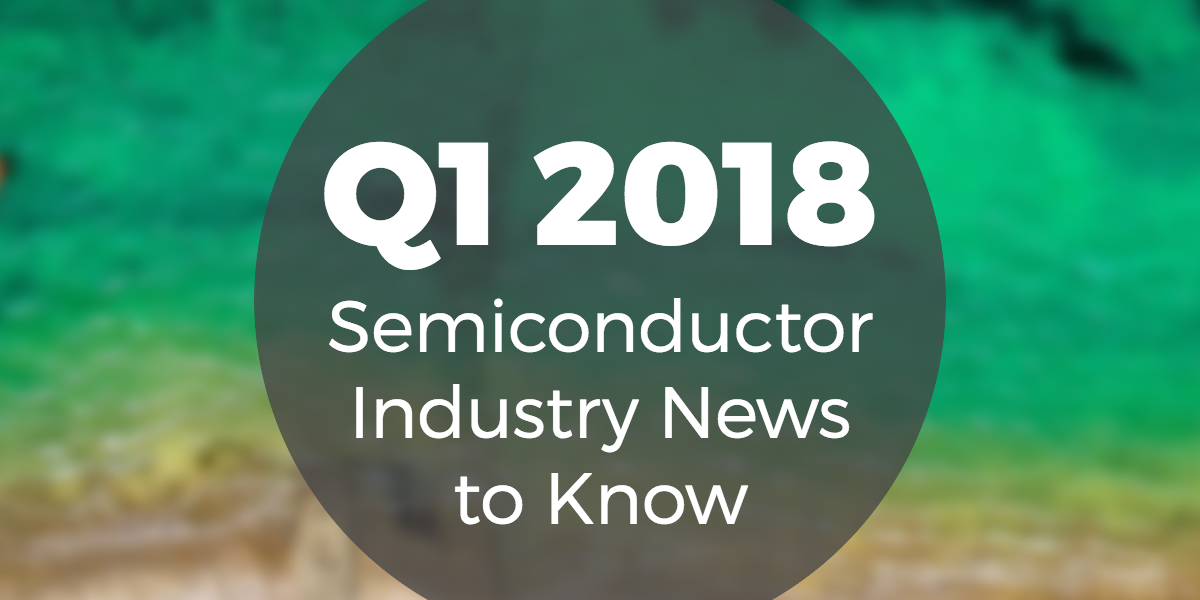 The final quarter of 2017 left us with record-breaking performance across the industry. Awestruck by exceptional results in the semiconductor industry, many awaited the promise of steady growth in 2018.
As the new year rolls out, the sequel is just as remarkable. Surging growth continues with the advent of breakthrough technologies and commitment to innovation. With chief leaders and major tech players in the mix, we expect to see an involved approach to nurture the U.S. as a power player in the chipmaking industry. While some semiconductor leaders question means of sustainable growth, 2018 rockets ahead with continued growth and innovation.
Read on to explore the latest semiconductor news and technology trends in the first quarter of 2018.
Surging Semiconductor Industry Revenue Growth
As semiconductor technology embeds itself into many emerging products, the global demand for chipmaking has led to landmark sales. After global sales during the fourth quarter of 2017 reported the highest-ever quarterly and monthly sales, the numbers continued to soar across the charts.
In February, the Semiconductor Industry Association (SIA) announced worldwide sales reached $37.6 billion in January 2018, an increase of 22.7 percent compared to last year's $30.6 billion. Adding up the numbers, SIA also reported that annual semiconductor sales increased 21.6 percent, topping $400 billion ($412.2 in total) for the first time.
SIA President and CEO lays out policy objectives for 2018
Among other established policy agendas of 2018, the U.S. semiconductor industry follows suit with an 8-point policy plan to meet two goals: promote U.S. economic growth and innovation and help to ensure American businesses can compete on an equal playing field with our international competitors.
The eight objectives are as follows:
Research

: Every year, U.S. semiconductor companies invest about one-fifth of their revenue in research and development. For the pursuit of progress, SIA will continue to urge the government to increase investments in scientific research at federal agencies.

Trade

: Access to global markets remains critically important to U.S. semiconductor companies' sales. Maintaining and expanding access to markets will ensure robust global trade. To level the playing field, SIA will also enforce international trade rules.

Tax

: The 2017 landmark legislation to reform America's outdated corporate tax system is a major win for sustainable semiconductor research, design, and manufacturing. Under the new tax law, SIA will work to help shape the regulations needed to implement the corporate tax reform.

Export Control

: As semiconductors remain key drivers of U.S. economic strength, we will see a push for free controls of 5G technologies and other commercial products to gain a competitive advantage in the global market.

Workforce

: In the semiconductor realm, the technology workforce shifts and shapes with the mold of innovation. Because of the needed skills and talent, SIA hopes to strengthen the workforce by promoting policies that attract and retain workers in STEM. Over the long term, investments in learning and education will continue to be the focus of SIA plans.

Environment, health, and safety

: Environmental concerns hold great weight in sustainability and safety conditions. While maintaining government green initiatives, SIA aims to ensure regulations provide the industry with sufficient flexibility to operate successfully.

Anti-counterfeiting

: Technology plays a critical role in society, as evidenced by the countless products we use and see in the world. To ensure safety and security of key technology functions, SIA will work with enforcement agencies to regulate counterfeit products and encourage procurement through authorized sources.

Intellectual Property

: To continue success and credibility of semiconductor innovation, protection of intellectual property is essential. Among key points of action, SIA will support improvements in patent quality, reduce abusive patent litigation, and increase the protection of trade secrets.
Semiconductor Industry News
Imec presents the Lifetime Innovation Award to Irwin Jacobs
The Lifetime Innovation Award is an honor of prestige awarded to someone who significantly advanced the field of semiconductor technology. Imec, a research and innovation hub in nanoelectronics and digital technologies, initiated the recognition in 2015 to mark milestones that have transformed the semiconductor industry.
In 2018, Imec presented the award to Dr. Irwin Jacobs, Founding Chairman and CEO Emeritus of Qualcomm. Upon making the announcement, Luc Van den hove, president and CEO of Imec said, "Irwin Jacob's many technological contributions laid the groundwork for creating the mobile industry and markets that we know today."
Under Jacob's leadership, Qualcomm developed two-way mobile satellite communications and tracking systems. He also pioneered spread-spectrum technology and systems using CDMA, now a digital standard for mobile communications.
President blocked Broadcom's takeover of Qualcomm with Executive Order
Since last quarter, we saw a strong consolidation movement with several M&As in the works, including Broadcom's bid for Qualcomm. Broadcom, a Singapore-based semiconductor firm, sought to secure Qualcomm, a San Diego-based firm, in an effort to solidify 5G technology advancements in the U.S.A. Earlier in March, the President blocked Broadcom's $117 billion takeover of Qualcomm with an Executive Order. If the acquisition had gone through, it would have been the largest technology deal in history.
In the order, the President cites the foreign acquisition as a national security threat. Under these unusual circumstances, mergers are rarely killed before shareholders are given the opportunity to decide on the offer for themselves. According to the law firm Ropes & Gray, the presidential action against a foreign investment has only taken place four times in the past 30 years.
Tech Trends: AI, Cloud, and IoT are key revenue drivers, cybersecurity rises as a strategic priority
This coming year spotlights AI, cloud, and IoT as the showstoppers in the semiconductor industry. These technologies will impact revenue growth in 2018.
According to a KPMG study, two-thirds of the 150 semiconductor industry leaders stated IoT as one of the top revenue drivers. Cloud computing and AI shot into the top 10 as they were cited by 43 percent of respondents. In the scheme of increasing demand, these technologies contribute value and dependency for each other. While cloud structures enable AI and capture IoT-produced data, AI delivers better analysis and use of data. These technologies are coming into play among major tech giants who are creating their own chips.
According to semiconductor leaders, the top three strategic priorities over the next three years include:
diversifying into new businesses areas.

M&A and joint ventures.

talent development/management.
In the wake of Spectre and Meltdown news, cybersecurity has also become a major talking point in media and government think tanks. Opportunities in this field open the door for developers and the general public to implement and adopt security practices moving forward in 2018.
The wheels for a thriving new year have been set in motion. As we journey onward through 2018, we shed light on noteworthy industry trends, emerging issues, and key areas of opportunity in the semiconductor field and the talent circuit.
To stay in the know about the latest semiconductor news, subscribe to our blog.