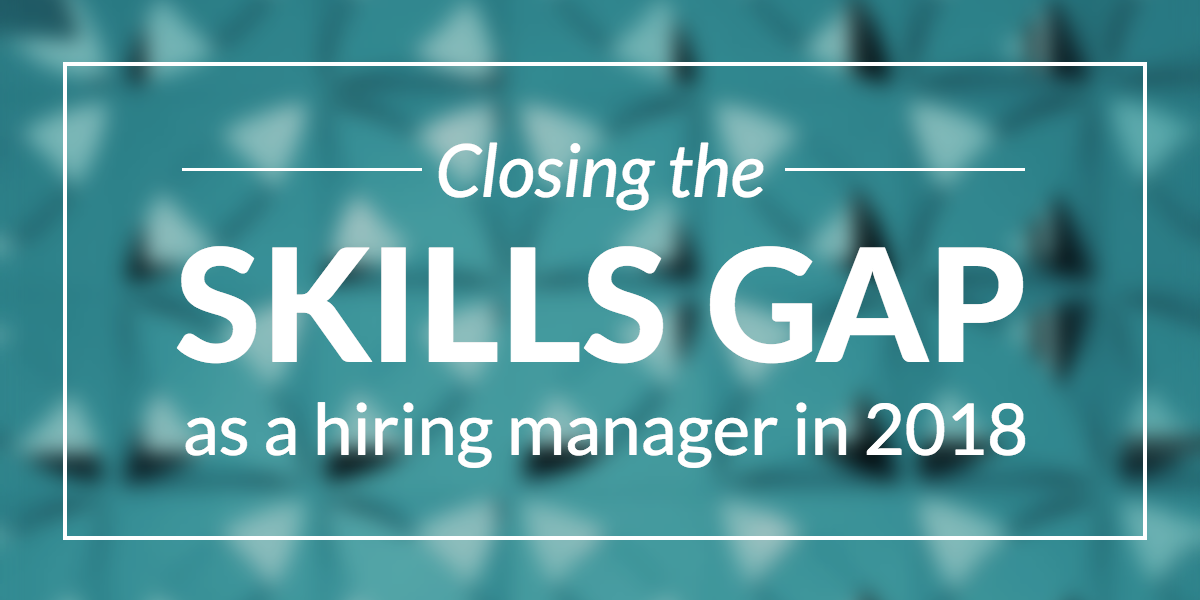 If you found yourself on the job hunt, would your qualifications today hold up for a new job tomorrow? With the lightning pace of technology breakthroughs that inhibit our role in the office and the changing faces of the workforce DNA, many worry about the impending "skills gap."
As the advent of AI, machine learning, and automation pushes the baseline standard for qualified candidates, companies are transforming their own talent and technical capabilities. After assessing the fastest growing, in-demand gigs in the semiconductor space, the implications for future positions call for skilled workers in sectors like cybersecurity, healthcare, and finance. As jobs become harder to fill, the strain of the skills gap is felt across multiple industries.
Bridging the gap starts with understanding what your company needs to keep up with tomorrow's world. In this article, we'll discuss the three types of skills gaps and some ways to bridge that break in your organization.
Knowing the three types of skills gaps
Let's clarify the definition of a skills gap. According to EMSI (Economic Modeling Specialist International), the skills gap is the mismatch between the needs of employers for skilled talent and the skills possessed by the available workforce. Breaking it down, there are three types of gaps that live under this umbrella in today's workforce:
Few people have fundamental practical skills, such as the ability to communicate effectively, read technical manuals, and make appropriate calculations.
According to LinkedIn, 92 percent of executives say that soft skills are as important as technical skills. Yet, 89 percent of executives report that it's difficult to find people with soft skills. While hard skills like cloud and distributed computing, statistical analysis, and web architecture are crucial in highly skilled positions, social skills continue to play an essential role across all occupations. Even tech-centric jobs such as software developers emphasize the need for adaptable, critical thinkers and communicators. While technical literacy offers a high-level foundation in the age of automation, IoT, and AI, the demand for soft skills will accelerate in 2018.
Workers lack specialized skills needed to fill many trade positions.
A certain line of work remains vacant if workers lack skills for the craft. These occupations often do not require a traditional two- or four-year college degree. Rather, earning certifications and licenses move these careers further than traditional degrees. Trade positions include advanced welders, energy services or computer technicians, and mechanics.
A lack of candidates with science, technology, engineering, and math (STEM) skills needed for many jobs.
As companies grow talent in a fast-paced digital and technological space, newer positions with multi-disciplinary STEM knowledge emerge. This includes cybersecurity, data analytics, and financial services. Firms are expected to crunch data to provide leaders with insight and help in the decision-making process. With IoT doing the heavy-lifting in data collection, organizations will call for specialized coding skill sets.
Invest in talent and resources to bridge the gap
Create learning and development initiatives that support, encourage, and reward continuous learning and reskilling.
To train for both soft and hard skills, companies look to integrate initiatives and programs that foster both technical skills and workplace skills. Many organizations are turning to apprenticeships, on-the-job training, mentoring, and collaboration with universities and colleges. Alternative education paths are defining the way employees master employable skills. Education is not limited to the classroom anymore—meet workers where they are and empower them to learn based on professional aspirations and current job needs. Whether it's online coursework or cross-generational mentoring, creating a sustainable learning culture will help reduce talent shortfalls and build employee retention.
Diversify the talent pipeline
Pushing innovation forward is a major goal for most organizations. This also needs to happen within your workforce to reflect the evolving changes in workforce demographics and the needs of different generations. Evidence suggests that a racially diverse and inclusive tech sector could translate into stronger financial performance. When companies commit to diverse leadership, they also gain competitive advantage. Pursuing differences in gender, sexual orientation, and racial demographics not only unlocks talent pools to fill workforce gaps, but also results in enhanced breakthroughs and creative solutions.
Turn to Managed Service Providers (MSPs)
As blended workforces continue to grow, meeting labor demands becomes a complex process. Especially with shifting demographics that disrupt job creation, managing the constant stream of workforce implications amid skills gap challenges puts more strain on hiring managers to adjust and adapt to the grain. To save time and increase efficiency, outsourcing to MSPs gives you better candidates that fit your company and its culture. MSPs manage all aspects of contingent labor from recruiting, hiring, onboarding/offboarding to project management and staff augmentation. They can simplify your hiring process and ensure the organization is equipped with high-quality candidates without the headache of navigating through multiple agencies.
The skills gap won't close overnight
Take steps now to gauge labor demands and plan for the best outcome. The most successful leaders balance today's challenges while preparing employees for tomorrow's opportunities. While the skills gap won't close overnight, you can start now to prepare for constant, ever-evolving forces:
Look at your current labor composition and demographics. How many employees does the organization need to reach goals? Will the current workforce have the skills necessary to perform their duties?

Committing to best practices before you hire

goes a long way to build a thriving team.
Understand what type of skills gap afflict your workforce, and focus on how to bridge the break. Whether it's recruiting, training, contingent staffing, or outsourcing, breeding a good knowledge of what your organization needs and taking action puts your business ahead of the curve.
Want more insights into hiring top engineering talent? Get your free guide today!