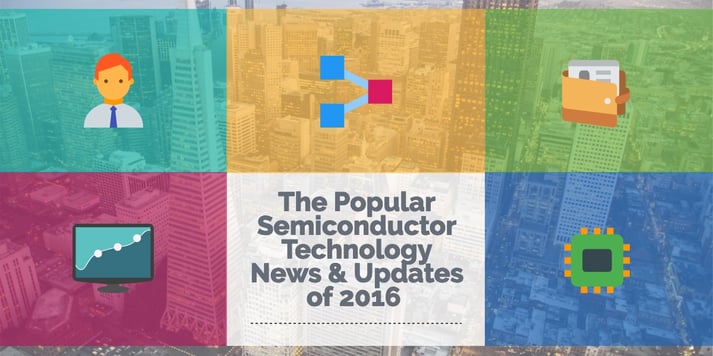 The semiconductor industry and its labor market have been on quite a journey this year. As 2016 draws to a close, we want to be sure you've gotten all the important content to set you up for a successful 2017. We've put together our most popular articles from 2016 in case there's anything you may have missed! Be sure not to miss another semiconductor update.
As the end of Moore's Law draws near, we took a look at what it means for the semiconductor industry and the impact it will have on talent needs. We looked at important questions like why we believe Moore's Law will end and when, and what industry influencers believe will replace Moore's Law beyond 2020.
We can expect to see new and alternative ways of integration and scaling, including vertical geometries and 3D structures. According to the ITRS report, conventional 2D transistor density scaling will end by 2021 and 3D integrated circuits will move to the forefront of microprocessors.
Engineers driven to improve CPU performance will not focus solely on improved clock speed, but rather find alternative ways to architect hardware and reduce power consumption. These will be the engineers who drive success for their semiconductor companies.
In the semiconductor industry in 2016, we witnessed a trend toward company mergers while semiconductor experts made efforts to prepare for increasing challenges in the semiconductor industry. And semiconductor sales didn't do so bad either. Some of the major semiconductor news to note included:
Global Semiconductor Sales Reach Highest-Ever Quarterly Numbers.

Qualcomm Acquires NXP, Upholds Semiconductor Merger Trend.

Broadcom Acquires Brocade Communications and Samsung Steps into Automotive Infotainment for $5.5 Billion and $8 billion, respectively.

PCAST Forms Working Group to Address Challenges in the US Semiconductor Industry.
The race is on to discover the solutions for a changing semiconductor industry—and hiring the right semiconductor talent will change right along with it.
Choosing a career is a daunting task, especially for those who haven't grown up with a passion for exactly what they wanted to be when they grow up. Typically, the two main factors students look at are employment rates and income. They've got a pile of student debt to reckon with, after all.
What makes the tech industry unique is that, unlike many other fields, it offers a wide variety of job openings at every level. New graduates generally have an easier time finding work in the tech industry compared to their peers looking for work in other fields. With an unemployment rate of 2.3% in 2015, the tech sector saw about half the unemployment rates of the US economy as a whole. Additionally, the average starting salary begins around $60,000. A definite higher-paying option than entry-level jobs in other industries.
As the industry evolves, we see not only a requirement tech knowledge, of course, but also a trend toward successful candidates exerting good business skills.
On top of some of these practical reasons, choosing a career in STEM can help the future success and technological advancement of our country and our world and the world for future generations.
Over the last decade, we've seen an upward trend in the rise of the contingent workforce. In 2006, contract workers made up 30% of the workforce. Today, contingent labor makes up 40.4% of the total workforce and counting.
Why is a contingent workforce becoming popular for so many companies? Hiring contractors allows employers to specify what skills they need, and for what amount of time. For departments that have trouble getting approval to hire another full-time employee, hiring a contractor for a short period of time can be easier to sell to those with budget authority. The ability to only pay for the skills or deliverables necessary makes contingent workers a budget-conscious choice.
For companies looking to fill a permanent position on a team, hiring contractors can be an excellent way to test whether a potential full-time employee is a good fit with their coworkers and the company culture. Hiring a contractor for a short trial period allows managers to ensure a candidate has the right skills, experience, and personality for the company before committing to bringing them on permanently.
At Talent 101, we source strong candidates who are skilled and experienced in the semiconductor industry. We believe in maintaining relationships with them so we can connect them with the right job at the right company.
Never miss another semiconductor industry update. Subscribe to receive updates from the Semiconductor Blog right in your inbox.