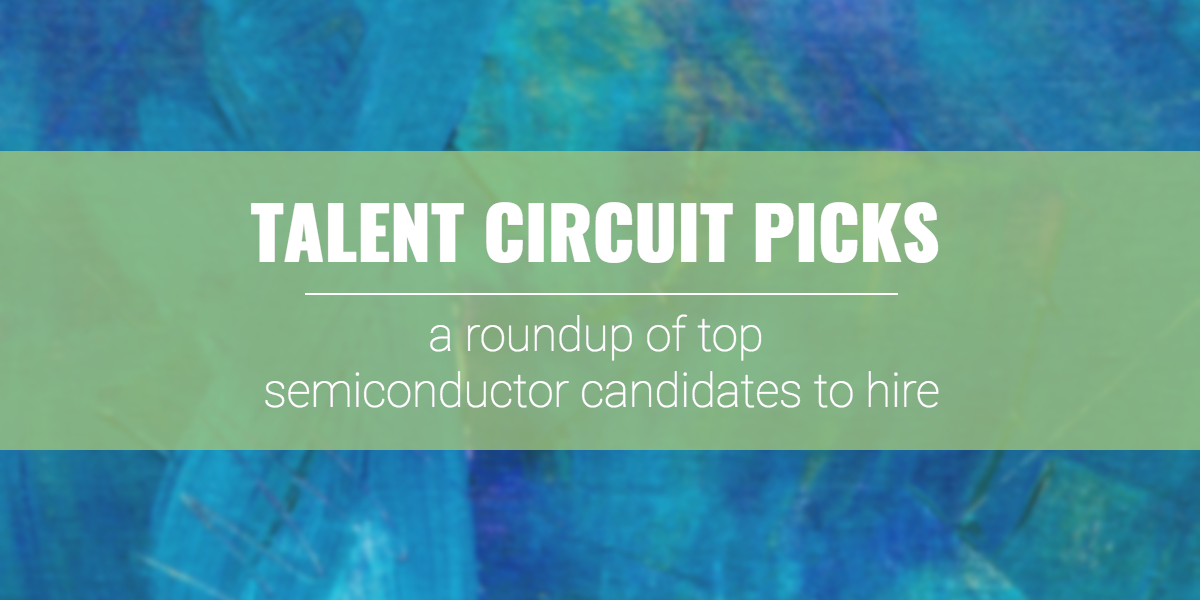 The number of great technical candidates has risen and fallen a lot throughout the years. Nowadays, the talent search isn't easy; hiring managers have to stay laser-focused on filling critical open roles productively and efficiently or risk losing the best candidates to competitors.
At the Talent CIRCUIT, we take strong measures to select, interview, and qualify candidates to build a talent repository focused on the chip industry. The result? A list of highly competent candidates available when you need them.
Through our research and data, we uncovered popular roles and candidate pools to keep on your radar for future projects. Let's explore some of the top engineering talent and in-demand roles we have available in the CIRCUIT to help you refresh your hiring pipeline.
Software engineers
Software engineers are the heart behind the production of computer applications and mobile applications. They build high-quality, innovative, and functional software that complies with coding standards and technical design.
A skilled software engineer has excellent programming and software architecture skills, familiarity with database structure analysis, and a creative approach to problem-solving. A strong candidate is proficient in multiple coding languages like C++, C#, Java, Javascript, Python, or Ruby on Rails.
Check out some of our top software engineering talent:
Explore more software engineers here.
Design engineers
Design engineers use their technical knowledge and design expertise to research, design, test, and modify products across all types of industries. Besides focusing on making the product look good, design engineers also have to make it safe, easy, and cost-effective to use.
Great design engineers have deep competence with CAD/CAE software, meticulous subject knowledge, a thorough understanding of FEA analysis, and a persistent practice of creativity.
Check out some of our top design engineering talent:
Explore more design engineers here.
Test technicians
Test technicians perform standard testing processes on a variety of equipment and analyze results. They support technical teams with recommendations to resolve testing issues, roadblocks or malfunctions that impact the product performance. Test technicians also assemble, calibrate, and improve maintenance on equipment, machinery, and electronics.
Search for test technicians with knowledge of industry specific tests and testing equipment, soldering experience, and the ability to troubleshoot products well.
Check out some of our top test technician talent:
Explore more test technicians here.
Layout engineers
Layout engineers research, plan, and oversee circuit layout and production. They apply their expertise of electronic and mechanical systems to convert schematics into full custom layouts of analog, digital, and mixed-signal designs.
If you're on the hunt for qualified layout engineers, look for candidates who have CAD software knowledge, a strong understanding of physical verification flows (i.e. DRC and LVS), and a proven track record of great PCB design and management.
Check out some of our top layout engineering talent:
Explore more layout engineers here.
Verification and validation engineers
Verification engineers develop the processes to determine if the software meets the specifications. They ask, "Did I build what I need?" Before launch, verification engineers build testing models, pilot the product in simulations, debug any flaws, and analyze the results.
Validation engineers create a process to test if the software captures the customer's needs. They ask, "Did I build what I said I would?" Validation engineers validate and qualify all use cases of the design.
If you're in the search for top engineers in these fields, look for candidates who have solid knowledge of design under test (DUT), debugging skills, and programming languages (i.e. SystemVerilog and UVM).
Check out some of our top verification & validation engineering talent:
Explore more verification and validation engineers here and here.
Want to learn more about optimizing your hiring process and getting top talent for your engineering teams? Get the Guide to Hiring Top Engineering Talent today!