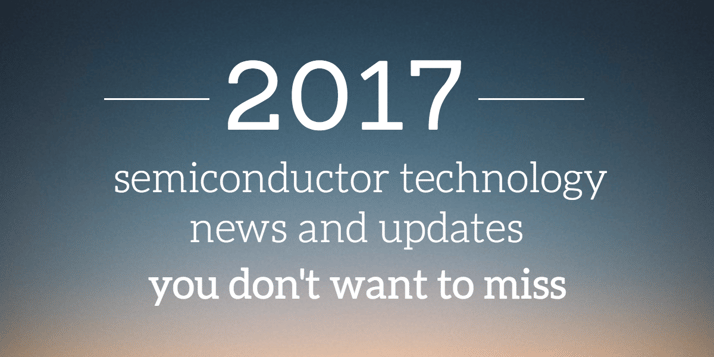 While it's hard to believe 2017 is already coming to an end, the year has not been short on buzz and activity in the semiconductor industry. Each year, we develop our Semiconductor blog to cover the latest semiconductor news and technology trends, and keep you apprised of what's going on in the world of semiconductor and engineering talent. We want this blog to be a place full of educational resources to keep your engineering team running strong and prepared for wherever the industry is headed. Take a look back on our most popular content from 2017, and be sure you never miss an update from the Semiconductor blog.
It's clear our readers love to learn about what's happening in the industry and what it means for their businesses. Each quarter, we highlight some of the industry's top news, trends, M&As, and other important industry updates.
In this article, we take a look at the success the semiconductor industry saw in the last year and dig into the big acquisition trend we're seeing among semiconductor companies and how that will impact the industry—in both positive and negative ways.
Check out the other quarterly roundups from 2017:
What You Need to Know: Trends, Updates and Breakthroughs in the Semiconductor Industry
Q3 2017 in the Semiconductor Industry: What You Need to Know
Q4 2017: Semiconductor Industry News to Know
Great news for engineers: your skills are in demand and job availability is increasing. The Department of Labor projects employment of engineers in the US will grow by 4% from 2014 to 2024. While technology advances and the economy continues to rebound, more companies need engineers to achieve their mission objectives.
In this article, we gathered data from reports and white papers along with our own customer needs to bring a list of the most in-demand engineering jobs and skills in 2017. This field is experiencing a considerably lower unemployment rate compared to other industries in the United States. However, hiring an engineer can be a lengthy process— a vacancy that takes the longest time to fill compared to positions in other industries.
Like a carpenter, an engineer is only as good as his or her tools. You can have all the intellect and creativity in the world, but if you don't possess the know-how to communicate your ideas and test concepts with the technology available to you, you're going to have a difficult time thriving in your engineering career. In this article series, we take a look at different types of engineers and the specific tools required to grow and thrive in that role.
First, we looked at engineers from a high-level view in Four Tools Every Engineer Should Know. No matter what area of engineering you're working in currently or trying to enter, there are some tools you should understand. These will help you lay a foundation to then build on with the tools specific to your engineering discipline.
Next, we explored the important tools it takes to be a mechanical engineer in Three Tools Every Mechanical Engineer Should Know. Mechanical engineers are generally involved with the generation, distribution, and use of energy. They conduct research, build models, analyze, and synthesize to create systems and machines that improve quality of life. To accomplish that, it's important for mechanical engineers to have a broad span of technical knowledge so they can make the ideas in their head a reality with the help of the right tools.
Finally, we looked at the Three Tools Every Design Engineer Should Know. To bridge that gap between concept and reality, engineers need a potent combination of creativity and technical knowledge. These two skillsets are particularly important for a design engineer to take projects from idea to completion. To accomplish this, they need a complete understanding of their design software and tools. Stay tuned for more on this series in 2018!
Today, contingent workers make up more than 40% of the U.S. workforce. With those numbers, it's no surprise the trend is on the rise for companies with blended workforces. Blended workforces utilize a mix of full-time and contingent workers making the workforce management an even more complex process. In this article, we explore the role of Managed Services Providers (MSPs) in bringing efficiency and solutions to the complicated workforce situation. We also look at how an MSP provides a valuable asset to your company by bringing you better candidates for top talent.
At Talent 101, we not only develop relationships with top semiconductor talent, but also seek out specialists in a variety of fields. That way, no matter your project, we know we've got the best talent and expertise ready to work on your project, from software developer to verification engineer and everything in between.
Looking for your 2018 resolution? Never miss another semiconductor industry update. Subscribe now to receive updates from the Semiconductor Blog right in your inbox.